Manufacturing Industry Jobs Update: February 2017
At THOMASNET.com, we are big champions of American manufacturing and reshoring. In fact, we work with suppliers who produce amazing products made in America every day, and we play an instrumental role in helping small- and medium-sized suppliers grow.
But how can we measure growth for the industry overall? A good barometer is the state of the manufacturing workforce. That's why we will be regularly diving deep into the latest information from the Bureau Of Labor Statistics to take the pulse of hiring in the industry and to highlight sectors that are growing.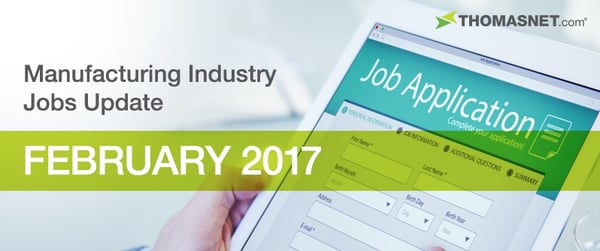 Here is our Manufacturing Industry Jobs Update for February 2017 (scroll down for previous releases):
Manufacturing Workforce Grows As Industry Strengthens
According to the Institute for Supply Management, production in U.S. manufacturing rose for the sixth straight month in February. At the same time, a Federal Reserve report indicated that output accelerated at its fastest pace in three years.
This sustained growth is driving the creation of new jobs. According to the BLS, 28,000 new manufacturing jobs were created in February and, over the last three months, the industry has added 57,000 jobs overall.
The bump in jobs correlated with a decrease in the industry's unemployment rate, which fell from 4.2% in January to 4% in February. The industry's unemployment rate is now at its lowest point since December 2015.
---
"The U.S. #Manufacturing industry grew significantly in February,
and so did the workforce."
---
As for the economy overall, employment increased by 235,000 in February, and the unemployment rate declined .1 percentage point to 4.7%.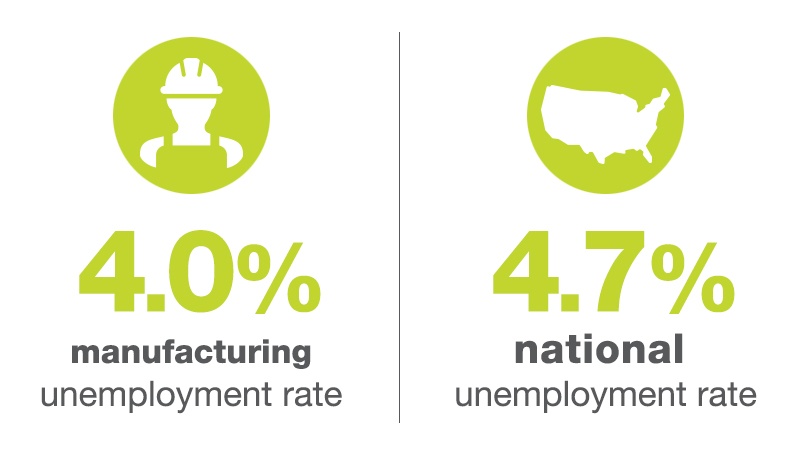 Sectors Experiencing Growth
A number of manufacturing sectors contributed to the industry's overall growth. The Food Manufacturing sector continued to add headcount, with 8,800 new jobs created in February. The sector has now added jobs in 16 out of the past 17 months.
The Machinery sector also grew, with 6,800 jobs added in February. According to a new research study, the sector is poised for more growth in the years to come. Global Market Insights projects that the U.S. Industrial Machinery market size will surpass $771 billion by 2024.
Other sectors that experienced solid month-over-month growth include: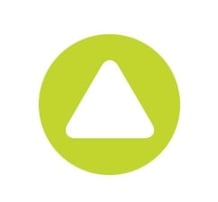 Chemicals (+2,500 Jobs)

Plastics & Rubber Products (+2,500 Jobs)

Nonmetallic Mineral Products (+2,400 Jobs)

Primary Metals (+1,600 Jobs)

Paper & Paper Products (+1,500 Jobs)

Wood Products (+1,500 Jobs)

Electrical Equipment & Appliances (+1,200 Jobs)

Furniture & Related Products (+1,000 Jobs)
Sectors To Monitor
The Transportation Equipment sector lost 6,000 jobs in February, the only sector to experience significant contraction in its workforce.
Where Are The Manufacturing Jobs?
Looking around the United States, one geographical stands out as a hotbed of hiring activity – the South. The region added 13,300 jobs in January*, and many individual states within the region experienced growth.
Texas added the most jobs of any state in the region, as well as in the country, with 7,300 new jobs created. Florida came in second regionally and nationally, adding 4,000 manufacturing jobs; and Kentucky generated 2,500 manufacturing jobs; tied for the third-highest total in the nation. Other states in the South that added jobs include Louisiana (2,000), Alabama (1,300), Georgia (1,100), Arkansas (700), Mississippi (700) and Delaware (100).
While no other regions experienced growth overall, there were some states that generated a significant number of new jobs. These states include New Jersey (New England), Ohio (1,900), Michigan (1,800), Alabama (1,300), Georgia (1,100) and Iowa (1,100).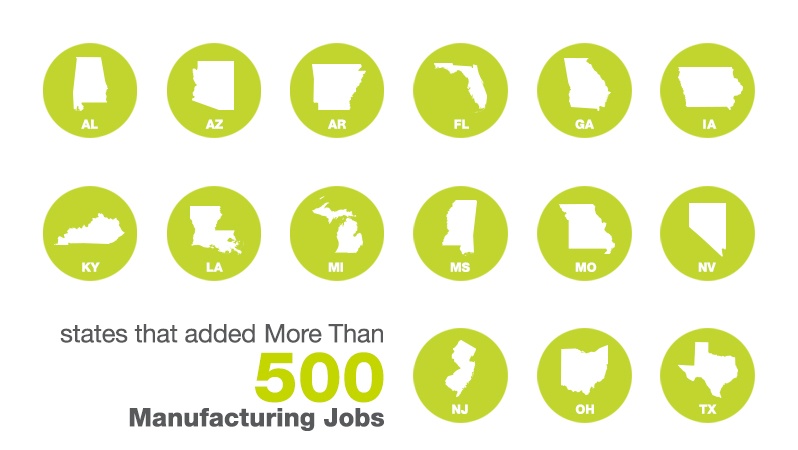 Women In Manufacturing
THOMASNET.com proudly supports efforts to increase the number of women in manufacturing. These efforts include engaging young girls in STEM education, professional development and networking groups, and supporting women-owned businesses.
Are those efforts working?
As of February 2017, the percentage of women in manufacturing remained 27.5%, up from 27.3% at the same time last year. However, despite the efforts mentioned above, this represents a decline in comparison to a decade ago when women accounted for 28.7% of all employees in manufacturing.

Hopefully, the industry will continue to make strides in bringing more women into the workforce.
*Regional and State Data Is Only Available For The Previous Month

Previous Releases:
Did you find this useful?