Green Manufacturing: 3 Steps To Be More Sustainable On The Shop Floor
Sunday, April 22 is Earth Day. To celebrate we wanted to shine a light on the importance of sustainability in manufacturing. Fortunately, the manufacturing industry is embracing sustainability like never before. In fact, no other industry produces more "clean economy" jobs.
Fueling the adoption is the fact that sustainability is not only good for the environment, it can be good for a business's bottom line. Procurement departments are becoming increasingly focused on finding environmentally friendly partners, and studies show that "green organizations" experience faster growth than their less eco-conscious counterparts.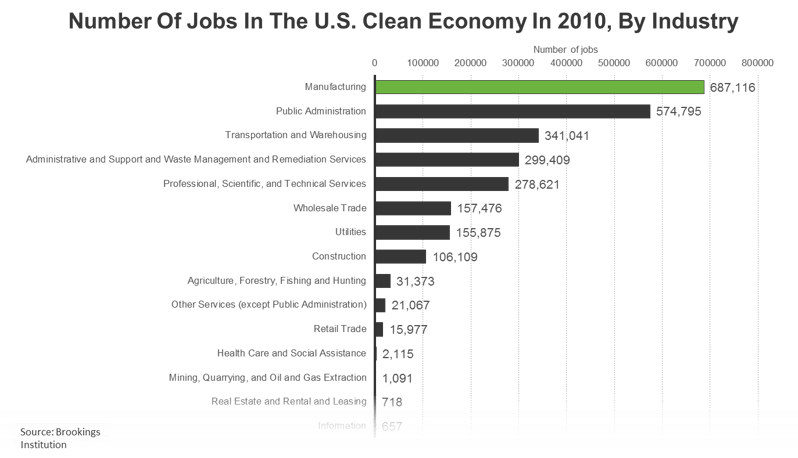 If you want to embrace sustainability and reap its benefits, it helps to know where to start. Here are three proven steps you can take to be more sustainable on the shop floor.
1. Analyze Your Current Organization's Environmental Impact
The first step that you need to take in order to become a more sustainable facility is to understand your current state.
Start by analyzing your energy usage. Determine how are these sources used in your production processes and how they might influence the environment.
Another important factor to consider is your organization's water intake. To do so, leverage resources from EPA's Watersense, or call your local water company. They can help you determine where you can cut water waste.
Finally, look at the materials you are using on the shop floor. Are they recyclable or hazardous? How necessary are they to the production process? Asking these questions can shed light on your situation and your options going forward.
A solid understanding of your environmental impact today will help you set realistic sustainable goals for the future. If you have the budget on hand, you can ask environmental consultants for help.
2. Reduce Waste Where You Can
Once you understand where your organization stands, you can take steps towards a more environmentally friendly facility. Fortunately, these steps don't have to be giant strides; you can start small and make incremental, strategic improvements.
For example, consider how you buy and use raw materials. If you only need part of a raw material, explore ways to leverage what you don't use. Work with other shops in the area to see if they can use the excess materials, and see if they have any you could leverage in exchange. At the very least, recycle your unused materials instead of throwing them in a dumpster.
3. Find Ways To Leverage Renewable Energy
Leveraging renewable energy is one of the best ways to create a more sustainable facility. Renewable energy options are plentiful, and they include sunlight, wind, rain, tides, waves and geothermal heat.
Major corporations such as Walmart and Anheuser-Busch InBev have already taken action by implementing renewable energy systems. And though renewable energy isn't seen as cost effective, it can actually be cheaper than traditional energy sources for larger shops. In addition to saving on raw energy costs, you may also be able to take advantage of tax incentives, depending on the state you live in.
Taking even small steps to go green will not only help the environment, but your organization as well.

Did you find this useful?