The Top 10 Best Thomasnet.com Company Profiles In The East Coast
Thomasnet.com® is the number one sourcing platform to connect buyers of industrial products and services with suppliers, manufacturers, and distributors across the United States and Canada. While it's a useful tool for buyers to find suppliers, it is also a valuable advertising tool that helps suppliers sell more, increase revenue, and improve their marketing efforts.
We've gathered the top 10 best company profiles on the east coast from the Thomas Network to show you the elements that make up a top profile in order to grow your manufacturing business.
Continental Steel & Tube Co., is a distributor of metal products, metals, and alloys located in Fort Lauderdale, FL and is one of the top ranked company profiles when searching for "Steel" suppliers on Thomasnet.com®.
Something that immediately stands out with this profile is that it showcases a featured white paper specific to their industry called, "Comparing Steel Plate Grades." This is a perfect example of how Continental Steel & Tube Co. is utilizing a content marketing strategy to fulfill their lead generation efforts.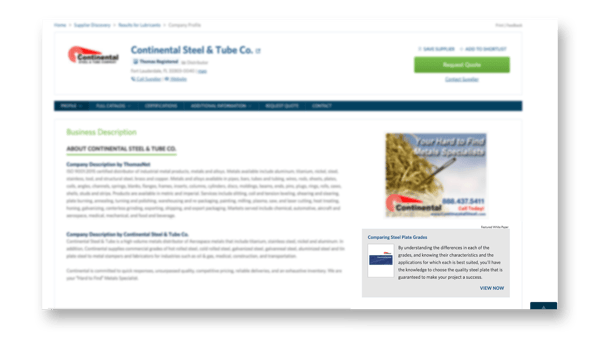 2.

Adhesive & Equipment

(Winder, GA — Printed Circuit Boards)
Adhesive & Equipment is a manufacturer and distributor of hot metal adhesive equipment and parts located in Winder, GA and is a top ranking company profile when searching for "Printed Circuit Boards" suppliers on Thomasnet.com®.
Adhesive & Equipment's company profile not only includes detailed text-based information, but also incorporated a multi-media element by adding a company overview video to its profile. This company overview video gives a quick explanation of what the company offers, it's applications and contact details. In fact, 65% of executives visit a company's website after viewing a video. By utilizing video advertising, Adhesive & Equipment increases it's chances to get specified by buyers.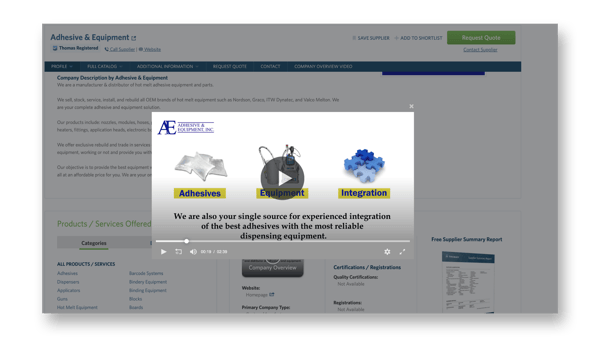 ---
Engage Your Prospects With Video Advertising
Thomas offers video content production for FREE for OEMs, Distributors, and Service Companies
---
Action Pak, Inc. provides contract packaging and filling for food and non-food products, located in Bristol, PA. We rank it as a top company profile because of the quality certifications it lists.
A question we always ask our industrial customers is what makes them stand out from their competitors. Certifications can be a great unique selling proposition when buyers are deciding between different suppliers. Adding certifications to your company profile like Action Pak, Inc. has done can give your business the competitive edge it needs to make the shortlist.
Certifications Action Pak, Inc. Lists On Its Profile:
Organic Processed Product Registration
Processed Food Registration
MIL-SPEC 45208A
EPA Facility Compliance
FDA Registered
ISPM 15
Lean Manufacturing
Six Sigma
Quality Support, LLC is a custom manufacturer of packaging material, wood products and components located in Scottdale, PA. This company profile ranks in the top 10 on the east coast for its detailed capabilities section on Thomasnet.com®.
Showcasing what your company can do by listing its capabilities seems like a no brainer, right? Often, we see this vital element missing when businesses are bidding on contracts. Quality Support clearly lists all that it offers on its company profile including things like custom packaging, crating, and industrial lumber services. By providing detailed information like this to potential buyers, it gives them a clear understanding of what you can offer them.
AP&T North America, Inc. is a manufacturer of automation equipments, systems and hydraulic presses that continuously pushes out news related updates landing their company profile in the top ten on the east coast.
Press Releases and news updates not only help manufacturers and industrial businesses boost brand awareness, but they can also drive credibility and sales. AP&T North America's company profile includes several detailed press releases about product launches, training programs, environmental capabilities — topics that their customers are interested in and can persuade new prospects to do business with them.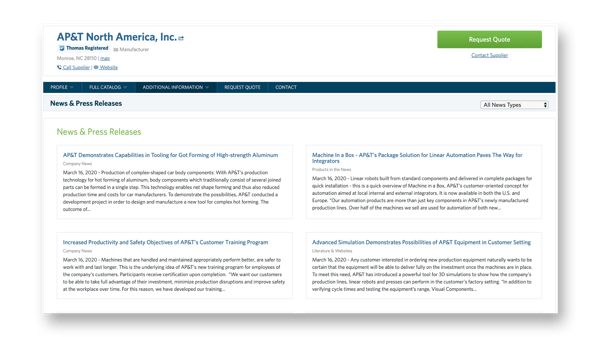 6.

Exhemplary Life

(Glenshaw, PA — Food Products)
Exhemplary Life is a manufacturer of hemp products such as tinctures, balms, soaps and extracts located in Glenshaw, PA. This manufacturer makes the top ten for listing its diversity status now that more stakeholders and policy makers are seeking out minority-owned, disadvantaged and small businesses.
More and more businesses are adding supplier diversity status to their Thomasnet.com® company profiles, and for good reason. Diversity programs are evolving from a nice-to-have to a must-have for many U.S. companies and it's having a lasting impact on supply chain.
Diversity Status Exhemplary Life Lists On It's Profile
Small Business Enterprise (SBE)
Woman Owned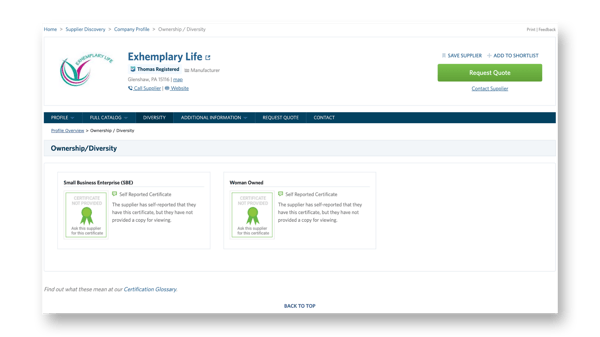 American Crane is a manufacturer of standard and custom cranes, hoists, and other material handling equipment located in Douglassville, PA. This women-owned manufacturer is the epitome of what constitutes as a top Thomasnet.com® company profile.
Each section of American Crane's profile is jam packed with various types of content written and offered with one persona type in mind... their buyer. This supplier not only takes advantage of Thomasnet.com® advertising solutions, but also partners with Thomas Marketing Services for all their marketing efforts like content marketing, SEO, paid advertising and more.
"Our business grew from 24 million in 2010 to over 40 million in fiscal year 2014, and Thomas was an integral part of making that happen. We're creating this whole other avenue of a sales pipeline that we didn't have before, and we're reaching people we wouldn't have reached before."

— Karen Norheim, President, American Crane

Mil-Spec Packaging of GA, Inc. is a manufacturer and distributor of standard and custom packaging products located in Macon, GA and lands on the list for its extensive and detailed product catalog on Thomasnet.com®.
There are many advantages of having an online product catalog for both manufacturers and buyers. It allows suppliers to effectively market their product offerings and reduce the strain of customer service efforts while providing buyers the ability to easily search for products and then select those exact products that meet their project requirements.
In today's digital world, a product catalog is no longer a "nice-to-have" — it's an absolute necessity. Mil-Spec Packaging streamlines it's digital product information strategy with the use of Thomas Navigator which manages and syndicates your data in one platform.
| | |
| --- | --- |
| Free eBook to help you get started with your online product catalog. | |
9.

Strouse

(Westminster, MD — Labels)
Strouse is a distributor and converter of pressure sensitive tapes, adhesives and film located in Westminster, MD and uses display advertising in its Thomasnet.com® company profile.
Display ads are a popular form of paid advertising that companies can implement on their company profiles just as Strouse has done. This kind of advertising is extremely effective and reaches more than 90% of people who surf the internet.
The display advertisement that Strouse uses was creatively designed with animation versus a static image. This is more engaging and will catch the eye of buyers.
Suggested Read: Display vs. Search vs. Social Ads vs. PPC In Paid Advertising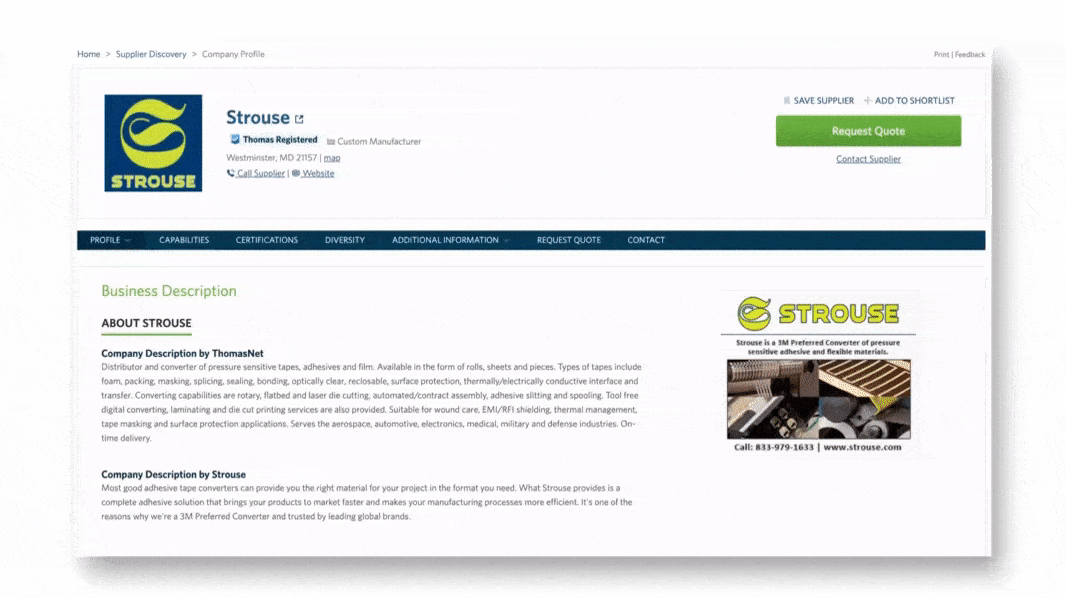 10.

CS Unitec, Inc.

(Norwalk, CT — Lubricants)
CS Unitec, Inc. is a manufacturer of lubricants including water soluble lubricants, cutting oils, pastes, pressurized coolant bottles, and more located in Norwalk, CT. This top company profile nailed the additional information section by providing extensive product information with videos, catalog PDFs, and more.
Engineers and procurement professionals want to know how their products will be made, and what kind of machinery will be used to fulfill their project requirements. The detailed product information that CS Unitec displays on it's company profile is informative, explicit and doesn't leave buyers questioning.
Start bringing in more online RFQs with a free company profile on Thomasnet.com just as these manufacturers and industrial companies did — click here to create your profile.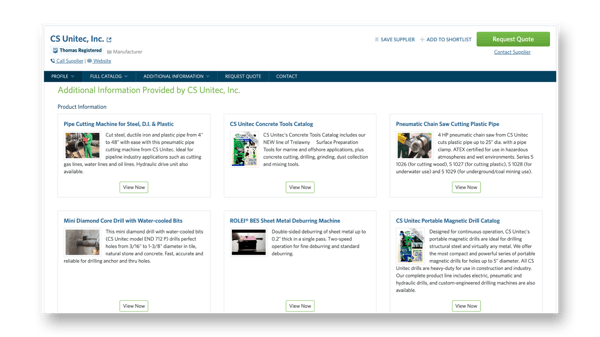 Did you find this useful?