Standing Out From The Crowd: Why Your Job Shop Needs A Unique Selling Proposition
There are tens of thousands of job shops across the country. (As we know — we list many of them on our supplier discovery platform.)
Chances are, some of those suppliers are producing the very same products you are. So how can you stand out from the crowd when customers are deciding between you and your competitors? Start by developing a compelling unique selling proposition.
What Makes A Great Unique Selling Proposition?
A great unique selling proposition, also known as a value statement, competitive differentiator or "better than," clearly articulates why a customer should buy from you instead of a competitor.
There are some common elements that make for good proposition statements:
It should explain:
How your company can solve a problem or accomplish a goal

What makes your company or product unique

The benefits a customer can expect from working with you
It should be:
Clear and concise:

You shouldn't make customers guess what you mean. Don't be too clever; be direct and straightforward.

Adaptable:

A selling proposition will need to take many forms, depending upon whether it is being used in digital advertising,

inbound marketing

, videos, or traditional print, radio, and television advertisements. Therefore, make sure it is flexible and malleable enough to be used across mediums.

Distinctive:

Your statement should be specific to your organization, so don't borrow language from other companies – especially your competitors. If it sounds rehashed, it won't resonate with your customers.

True:

You want to set attainable and realistic expectations with your prospects, so never promise them more than you can deliver and don't stretch the truth. If you can't make good on your proposition, or if you can't validate your claims, then don't put it in writing. Find another message instead.



Selling Proposition Examples From Real Job Shops
For more than a century and from coast to coast, we've worked closely with successful job shop owners, and we've taken note of which unique selling proposition statements work for them. Here are some great examples:
"Zero defects, guaranteed, thanks to our proprietary monitoring equipment."

"The only ISO 9001:2008 certified supplier in the tri-county area able to vapor polish parts over 24" in diameter."

"We're the only machine shop in the state to receive HP's Excellence Award for exceeding their on-time standards."
What's The Risk Of Not Creating A Selling Proposition?
Creating a winning selling prop is an exercise that takes time, thinking, and effort. However, it's well worth it.
That's because, without a compelling message, nothing about a shop stands out. And when nothing about a job shop stands out as better than the others, it's basically a commodity that can only compete on price.
---
"When nothing about a #jobshop stands out, it's basically a
commodity that can only compete on price."
---
What Other Risks Are You Facing In Your Job Shop?
There are many factors that can contribute to the demise of a job shop, and not figuring out a unique selling proposition is certainly one of them. However, there are others that should be on your radar as well.
Based on our conversations with job shop owners throughout the country, we've identified 6 Mistakes That Doom Job Shops, all of which are often overlooked but easily preventable. So, if you want to make sure you are doing all you can to keep your job shop open, running and successful, click here to get our free eBook and explore the mistakes that you should steer clear of.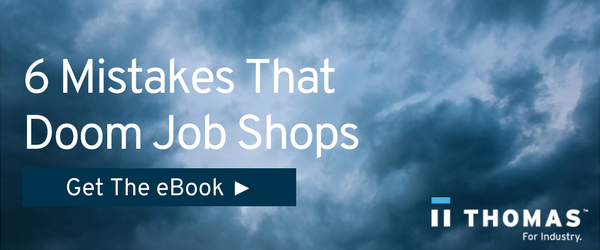 Did you find this useful?