13 Sourcing Tips To Identify New Quality Suppliers
When most buyers plan on identifying a new supplier, they are usually tempted to focus on the best price. However, concentrating only on low costs can hurt you in the long term. That's because shaving a few cents off the price of a product is no help if the quality is below standard, and the component or material does not arrive when you need it.
Instead of solely focusing on cost, focus on quality by incorporating these 13 tips into your sourcing strategy:


Editor's Note: If you're sourcing suppliers for COVID-19 items, click here for those manufacturers and distributors.
1. Check Certifications
Many buyers have minimal requirements when it comes to supplier quality certifications. However, suppliers do not always make it easy to view and verify their certifications. Discover suppliers that are certified to your quality standards, including ISO, QS and more.
---
According to a recent survey, quality certifications ranked in the top six of all factors that B2B buyers use to evaluate suppliers.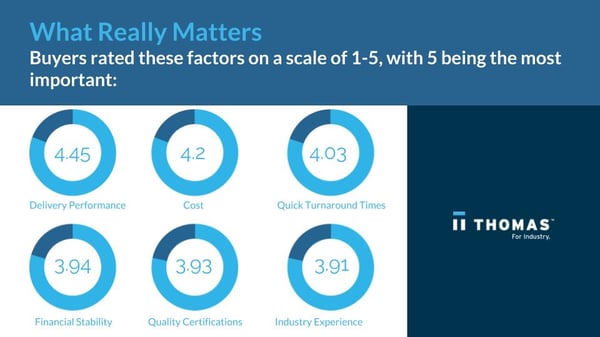 2. Evaluate The Geo-Political Climate
While some overseas resources can provide rock bottom prices, tenuous labor relations or political upheaval can leave you without your required product. Take the time to thoroughly analyze the potential for unrest in the areas you will rely on for your supply chain success.
3. Finding Reputable Suppliers On The Thomas Network
Product discovery tools like Thomasnet.com are great places to find new, quality suppliers. The Thomas Network is the leading sourcing platform for industrial buyers to connect with suppliers, meaning it's a win-win for both. Engineers, procurement professionals, and designers are easily able to source on the platform for the products and services they need meanwhile, manufacturers and distributors can promote their businesses and win more contracts.
We don't want to toot our own industrial horn, but if you're not a quality supplier, we won't create a supplier listing. AKA, if a supplier's business can't provide sourcing professionals quality service, they won't be listed on the Thomas Network.
---
Are you a quality industrial supplier? List your business for free on Thomasnet.com.
---
4. Gauge Financial Stability
According to an informal Thomasnet survey, nearly half (50 percent) of all buyers have worked with a supplier that unexpectedly went out of business. Don't be caught off guard — read 3 financial risks in the manufacturing industry.
5. Assess Weather-Related Risk
We have all seen hurricanes, tornados, snow, rain, and drought impact communities worldwide. However, the news rarely covers the impact these events have on the supply chain. You do not have the luxury of overlooking this. As you select potential suppliers, identify the weather-related events that are typical to the region, and evaluate how they could dictate your ability to maintain business as usual.
6. Align Manufacturing and Shipping Locations To Your Needs
Depending on your manufacturing requirements, you should determine your need for a multi-location supplier or a single warehouse. Obviously, shipping capabilities and associated costs will differ by the number of locations a supplier has to offer. You may be able to negotiate a better price from a smaller business with a single location or string multiple suppliers together to meet your needs.
7. Carefully Review Product Information
Detailed product descriptions and related info will help you determine if they have the right products for your application. Suppose a supplier has taken the time to provide easily accessible product specs, charts, graphs, and CAD Drawings. In that case, it shows that they value your time and are willing to be as helpful as possible to win and maintain your business.
Read more: The Difference Between CAD and BIM
8. Ask For Accessible Inventory Information
Having visibility into your supplier's inventory can be advantageous. It is an indication of their commitment to you as a customer and their ability to provide what you need when you need it.
9. Know Their Scalability
Determine how flexible the supplier is when it comes to providing small quantity and high volume orders. If you are looking for smaller quantities or prototypes to start, you will most likely find suppliers that focus on that volume. If you grow to require extremely large shipments of the product over time, you could quickly outgrow your original supplier selection. Knowing what the growth pattern is for the product you are sourcing before selecting a supplier will allow you to partner with a supplier that can painlessly scale to meet your changing needs.
10. Check Their Commitment To Customer Service
Expect the best and plan for the worst. Evaluate the customer service provided by each potential supplier. If you are working in 24-hour lights out manufacturing capacity that could require a call to the supplier at any time of day or night, work this into your research. A deeper understanding of the contract language about their return policy should be uncovered as well. You do not want to be stuck holding the bag.
11. Get Lead Time and Delivery Statistics
Delivery performance is key to industrial buyers. Ask for their lead time projections compared to on-time delivery rates. If these cannot be provided, then it is a good sign that they are not tracked or are not very good. Either reason is cause for concern.
12. Read Into The Payment Terms
Identify the suppliers that are willing to work with your payment requirements. As the long term need and delivery timelines can dictate PO or Net 30 billing options, don't be afraid to ask for what you need to run your business appropriately.
Trending Now: How To Improve Your Supplier-Distributor Relationship
13. Contact References
Testimonials, testimonials, testimonials! A vote of approval from another business that the supplier is working with can speak volumes about their true abilities. While NDAs can cause difficulties in this area, a supplier should always have a ready list of happy customers or testimonials — even better if they have those testimonials on their website.
Take a look at what some of Thomas' happy customers have to say.
Learn More About Sourcing Quality Suppliers
While this is not an exhaustive list of parameters you should review before onboarding a new supplier, it will help identify those you can rely on. Learn more about how today's industrial buyers evaluate you before they contact you in our guide, How To Make The Industrial Buyer's Shortlist or check out related links below.
If you're sourcing on behalf of a supplier, advertise your business on the Thomas Network for free to put your company ahead of the competition and get seen by engineers, procurement professionals and MRO managers.
Did you find this useful?