Picking A Winner: What Industrial Buyers Care About Most When Choosing A New Supplier
The industrial buying process can be long and complex. It's also almost entirely self-directed, as buyers source, research, compare, and shortlist potential partners anonymously online, with very little interaction with sales people.
What kind of information are these buyers looking for, and what factors matter most when they ultimately decide to make a purchase decision?
To find out, we asked more than 250 real, verified, and registered buyers in the Thomas Network at Thomasnet.com. Here are the top 6 most important factors they consider when sourcing new suppliers: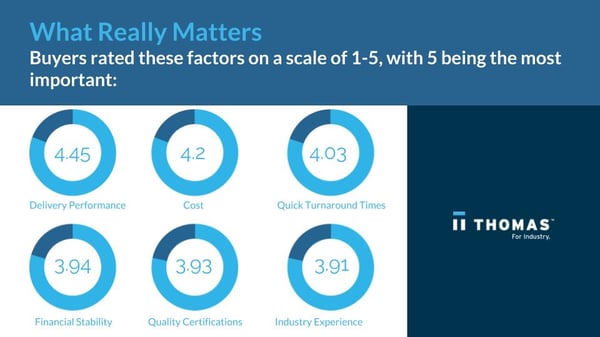 Delivery Performance Matters Most
As supply chains become more integrated and competitive, any breakdown in performance can be catastrophic. That's why buyers overwhelmingly identified delivery performance as the most important factor when choosing to a new supplier.
Cost Counts
Buyers are under increasing pressure to watch their bottom lines and get the most out of their budgets, so it's not surprising that cost ranked as the second most important factor when evaluating suppliers.
The Clock Is Ticking
The industrial buying process may take some time, but buyers don't expect you to do the same. They want their products or services as fast as possible.
Your Financial Stability Is A Factor
In a previous survey, we found that 89% of buyers believe that a potential supplier's financial stability is important when evaluating potential partners, and our latest findings echo this point. Make sure that your financial information is up-to-date and accurately reflects your company.
Get Your Certifications In Order
It may take a lot of time and effort, but attaining and maintaining your quality certifications can be a big boon for your business. Make sure the certifications you do have are easy to find and always current to instill confidence in potential customers.
Tout Your Industry Experience
Buyers don't want to be guinea pigs; they want to know that you have a track record of success in their space. Having a robust library of case studies and testimonials can help in this regard.
Learn More About Today's Industrial Buyers
Knowing what buyers value the most can be incredibly valuable to you, and should help you position your company to win more business.
For more insights into today's industrial buyers — including how they search for suppliers, what they spend, and their advice for suppliers like you — download our 2019 Industrial Buying Habits eBook.
Did you find this useful?