For Manufacturers: 5 Ways To Differentiate Yourself From Competition
The primary goal of an industrial content marketing strategy is to get your company noticed and grab the attention of potential customers. To do that, you have to differentiate yourself. But, of course, your competition is trying to accomplish the exact same thing. So with everyone striving to stand out, how do you actually get that done? You need the right approach to digital marketing, and you need to tailor your efforts to match your unique goals and needs. But what does that entail?

Implementing A Brand Awareness Strategy
When you have a strong brand, all other aspects of industrial marketing become a lot easier. When a prospect knows your name and what you stand for, when they directly associate you with the products or services you offer, you're already a step ahead. Nothing about the name McDonald's suggests hamburgers, and nothing about the name Geico suggests insurance, but these household names automatically elicit thoughts of the products offered by these companies. And even more importantly, thoughts of the products can bring to mind the name of the company that provides them.
That right there is the holy grail of marketing. Brand recognition and association have the power to sway customers to do business with you, and this is no less true for manufacturing companies than it is for fast-food joints or insurance companies. Most manufacturers neglect their branding efforts, which gives savvy marketers a great advantage from the get-go.
1. Helpful Content
Anybody can churn out content. But posting generic, impractical information isn't helping anyone, and it most certainly isn't helping you. So be helpful, educational, and informative. This is the core of any successful inbound marketing program.
Providing quality content will position you as a knowledgeable, valuable partner, not just another face in the supplier crowd ready to spit out a price quote. And you'll make yourself even more valuable to customers if you go beyond basic blog posts and provide them with educational long-form content, such as eBooks and helpful guides.
2. Savvy Search Engine Marketing
You can't stand out if you're invisible. You have to show up on internet search engine result pages if you expect new clients to discover you. Smart search engine marketing tactics, like SEO and SEM, increase the likelihood that potential buyers will find your website and engage with your content. And, as we just discussed in the last section, content is queen.
3. A User-Optimized Website
Remember those early days when websites had sparkles and dancing hamsters and funky music? The internet was a very different place then, and websites were largely a matter of vanity and novelty. Not so anymore. The internet means business, and if you want to stand out, flashy, useless features aren't going to cut it.
To set yourself apart from the competition, you must offer an industrial website that delivers an experience so intuitive that users don't even notice they're "using" your site. If your visitors have to hunt around for the information they need, if they encounter bugs, or if your site has an amateurish look and feel, they will definitely notice. The bar is always rising for professional websites, so if yours is subpar, it will reflect directly on you and severely damage your company image.
Learn More: 10 Best Industrial Website Design Examples In 2020
5. Emphasize Value Over Price
"You get what you pay for" can be a real buying and selling motto, but especially in the industrial space.
Emphasizing value over price is known as value selling. This sales strategy focuses on amplifying the benefits, improvements, and value of your product or service. The more you focus on the value you can provide your buyers, the less price will matter.
Value selling will also get you more quality customers. A customer only focused on price, may be more likely to say "sayonara" when a competitor offers them a better deal. Repeat customers are what we're all after, isn't?
A few ways you can focus on value:
Remember who your

target personas

are
Identify the problems your current and potential customers are having
List out all the benefits that your business can provide. What makes you stand out from your competition?
Provide prospects with videos, case studies, data, and reviews — all a great way to emphasize your value
A business that excels at value selling is Star Label Products. They lead and pave the way as having the "fastest turnaround for custom labels in the industry," and they use that to their advantage. This unique selling proposition is highlighted across their website. Headlining what they call, "Mission Impossible," they have documentation with real customer examples to show proof of how they operate, meet critical deadlines, and have high-quality products.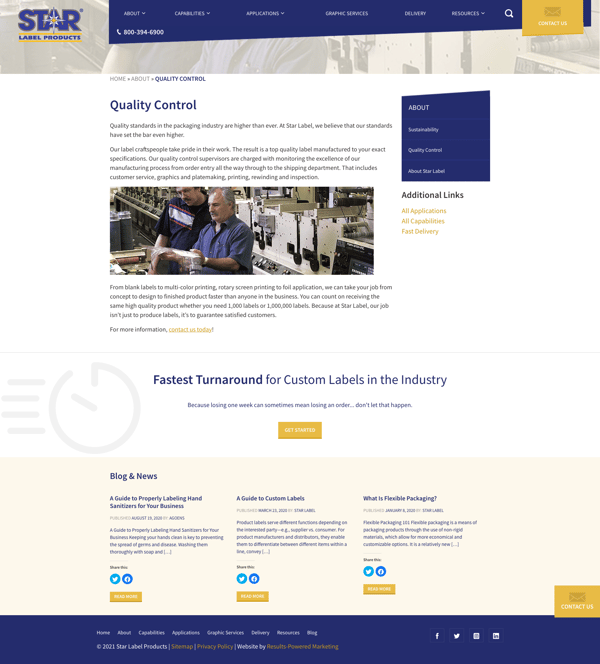 Learn More: How To Create Quality Content For Your Website
"One of the underlying themes, as well as obligations, to market in our B2B ecosystem is to share our expertise." Jason Kline, Director of Marketing at Consolidated Electronic Wire & Cable stressed the marketing strategy isn't just about branding at Consolidated, but rather engaging with customers and prospects with educational resources. "Our partners at Thomas help us to develop meaningful content that can aid folks through the buying process in our industry. Whether you're a first-year procurement manager or a twenty-five-year engineer, we've got direction to help you make educated decisions."
Thomas can give you a free digital health check and let you know exactly what you need to improve your brand awareness and keep you ahead of the competition.
Target The Right Buyers
Serious buyers turn to Thomasnet.com when they're ready to source products and find suppliers. All the relevant information they need to do their jobs is in one place, making their lives - and careers - easier. That's why Thomasnet.com is home to the largest, most active network of B2B buyers on the planet.
If you want to get in front of these buyers, you need to list your business on the platform. You can then showcase your capabilities and make it easier for buyers to find, evaluate, and connect with you.
"The average order size of customers that find us on Thomasnet.com is 5 times higher than our overall average, and they tend to give us repeat business. We recently met an urgent need for a manufacturer in Tokyo, which led to them placing 3 orders that were each more than 10 times larger than our average order size."
---
Verified company profiles on Thomas gets on average 8x more supplier evaluations than free listers.
| | | | |
| --- | --- | --- | --- |
| Thomas Registered | Thomas Verified Core | Thomas Verified Growth | Thomas Verified Scale |
---
Standing out takes effort, but it makes a huge difference for your bottom line. If you're interested in speaking with our industrial marketing experts, or if you'd like to learn how to position your Thomasnet.com listing above competitors, contact our team today.
Did you find this useful?