What Industrial Buyers Care About Most When Shortlisting New Suppliers
The industrial buying process can be long and complex. Buyers source, research, compare, and shortlist potential partners anonymously online, with very little interaction with sales people. Creating a shortlist is an essential component of the supplier discovery and selection process, but what kind of information are these buyers looking for, and what factors matter most when they ultimately decide to make a purchase decision?
Last year, we asked more than 250 real, verified, and registered buyers in the Thomas Network at Thomasnet.com. Here are the top 6 most important factors they consider when sourcing new suppliers:

Delivery Performance Matters Most
As supply chains become more integrated and competitive, any breakdown in performance can be catastrophic. That's why buyers overwhelmingly identified delivery performance as the most important factor when choosing to a new supplier. In an industry driven by KPIs and SLAs, it's really no surprise that a strong on-time track record can set a supplier apart.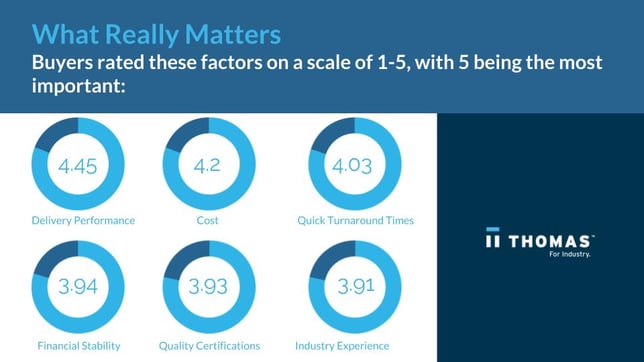 Cost And Quick Turnaround Are Important
Buyers are under increasing pressure to watch their bottom lines and get the most out of their budgets, so it's not surprising that cost ranked as the second most important factor when evaluating suppliers.
The industrial buying process may take some time, but buyers don't expect you to do the same. They want their products or services as fast as possible — without sacrificing quality.
Related Resource: How To Improve Your Supplier-Distributor Relationship
Your Financial Stability Is A Factor
In a previous survey, we found that 89% of buyers believe that a potential supplier's financial stability is important when evaluating potential partners, and our latest findings echo this point. Make sure that your financial information is up-to-date online and accurately reflects your company.
Showcase Your Industry Experience
Buyers take a lot of comfort in knowing that a supplier understands their industry. But do they know you have a track record of success in their space? Create a robust library of case studies and testimonials. Whether they're assets for industrial buyers to download that are detailed with how you showed exemplary service or they're creative videos that are easy to share — make sure they're on your website.
Check out these 13 manufacturing and industrial videos for more inspiration.
Get Your Certifications In Order
It may take a lot of time and effort, but attaining and maintaining your quality certifications can be a big boon for your business. Make sure the certifications you do have are easy to find and always current to instill confidence in potential customers.
See What Industrial Buyers Are Sourcing
Knowing what buyers value the most can be incredibly valuable to you, and should help you position your company to win more business. The same is said about sourcing data — find out what's surging in demand and see if your product or service is what buyers are searching for with our latest Sourcing Activity Snapshot.
Did you find this useful?