7 Ways to Show Email Marketing More Respect
Poor email marketing. It's the most direct way to communicate with your online prospects, but it never gets the respect it deserves — overshadowed by buzzier platforms and undercut by spam abusers. That's a shame, because in a landscape of ever-changing ways to reach your customers, email provides one of the only consistent links. A prospect may shut down their Facebook profile or grow tired of Twitter, but it's unlikely that they'll abandon their inbox.
Take advantage of that connection and learn to appreciate email marketing — but avoid these 7 common mistakes.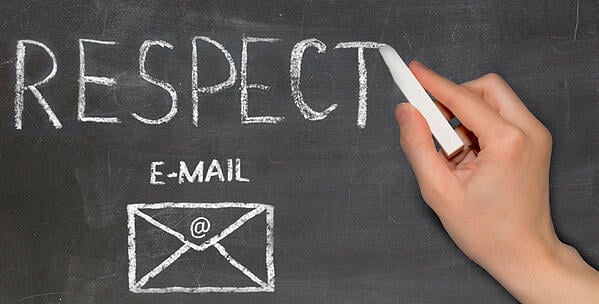 1. Don't think of your emails as a sales pitch.
Readers don't need a weekly reminder that you're a sales organization. Instead, craft emails that your contacts will look forward to as a source of information, utility, and value.
2. Don't keep your email in a silo.
Remember the content marketing ecosystem? Your efforts are all connected. Look at the big picture and use email in tandem with your other marketing efforts — sensibly tie in white papers, your blog, and other useful content.
3. Don't ignore email automation.
Email automation platforms can save you time and effort, and more importantly, allow you to track metrics like open rates, click rates, and conversions, all of which you can analyze to tailor your messaging and move prospects down the sales funnel.
4. Don't bury the lead.
Email is not the place for long-form content — it's a place to get to the point. Starting with the subject line and your opener, let readers know exactly why they should read your message, and what they'll get out of it.
5. Don't forget to A/B test.
The tools available today allow you to constantly fine-tune your messaging by learning what kinds of language and keywords will get the best response from your prospect base. Don't make the mistake of thinking that you've hit on the "perfect subject line" — there's always room for testing and improvement.
6. Don't rely on design over copy.
A picture is worth exactly zero words if no one sees it. You never know how your email images and formatting might display on recipients' devices — or if they will at all, due to a slow internet connection or reading on a mobile device. Focus on crafting effective copy, and keep it simple regarding design.
7. Don't assume your contacts are all at the same place in the sales funnel.
Ready-to-buy prospects aren't interested in receiving generalized, top-level content — just as readers between purchase cycles may be more interested in industry news than product FAQs or equipment use cases. Email nurturing campaigns can help you engage in the right way at the right time.
Email is one of the most personal methods of online communication between you and your customer, so it's important to get it right. For even more email marketing tips and best practices, subscribe to our newsletter.
Did you find this useful?