Inbound Marketing vs Traditional Marketing: For Manufacturers & Industrials
Industrial marketing and advertising have come a long way over the years. In the past, buyers were relatively uninformed about their options; they simply didn't have access to the wealth of information they do now. They couldn't turn to Google for company reviews and testimonials, and they couldn't access company websites for easy comparison, quote requests, and general industry information.
These were the days of cold calls and generic advertisements, and interruption was the key marketing tactic. Things have changed a great deal over the years, rendering these disruptive methods without significant results.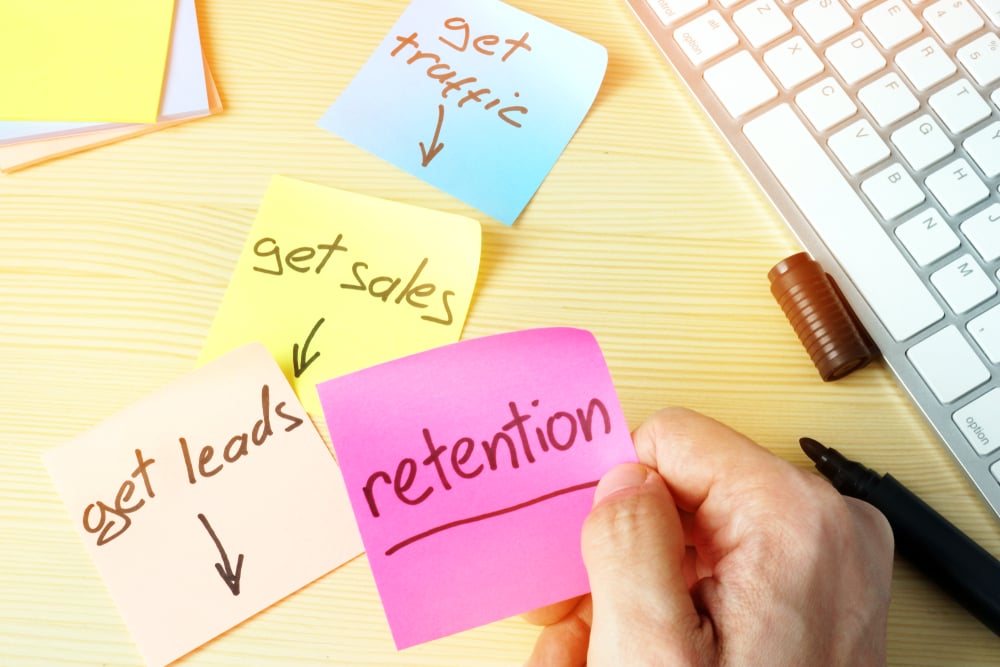 What Is Traditional Marketing?
Traditional marketing uses content that is written to sell products in one-way communication formats. Consumers generally see them as television ads, billboards, pop up ads, and telemarketing and they are called "disruptive" because they interrupt the consumer.
The Problems With Traditional Marketing
Disruptive marketing tactics have fallen by the wayside because today's buyers are no longer at the mercy of companies themselves. If buyers need information or want to compare potential business partners, all it takes is a quick search on their smartphones. They are used to seeing thousands of advertising messages a day, because various platforms have become their own advertising mediums. Companies can now reach prospective clients on the exact channels these potential customers are browsing. With so many different media options and platforms to turn to, 67% of B2B buyers rely more on content to research and make purchasing decisions than they did a year ago.
Technology Has Empowered Buyers
Buyers now have access to a wealth of information at their fingertips. Whether using smartphones, tablets, or computers, consumers today can access the resources they need with just a few clicks. Consumers are now choosing to self-educate to compare products, troubleshoot, and keep up with innovations and technologies. Plus, buyers can now take various preventative measures to keep interruptions to a minimum; the Do Not Call list, caller ID, and spam filters have all drastically changed the face of marketing. Today, rather than reaching out to companies themselves, people are more likely to turn social media to gain insight into a certain company or receive support for specific application issues.
From Forbes: The Digital Transformation Of Industrial Sales And Marketing
Many Buyers Don't Trust Ads
Consumers are used to being deceived by advertising; in fact, they expect to be. Studies have shown that buyers need to hear company claims three to five times before they actually believe them. And interruption has long gone hand-in-hand with false claims and overpromising. This general consumer distrust, combined with increased regulation — plus more and more advertising-related lawsuits over the past few years — has resulted in a marketing landscape unconducive to disruptive tactics. What helps convert leads is placing advertising on the platforms that actually matter to buyers and at the right time. Ads should be personalized for each persona to ensure maximum results.
Learn More: Display vs Search vs Social Ads in Paid Advertising
67% of B2B buyers rely more on content to research and make purchasing decisions than they did a year ago.
The Alternative: Inbound Marketing
Rather than only employing interruptive tactics, marketers today are now turning to inbound marketing strategies to reach their target audiences. Inbound marketing is explicitly permission-based; contacts must be already seeking out your company, and the goal is to get them to provide their contact information willingly in order to receive valuable resources, download informative eBooks and product specs, or sign up for promotions and company alerts.
Inbound Marketing Benefits
Inbound marketing is a proven tactic; 77% of online customers say they prefer permission-based promotions via email. They are also spending most of their time online engaging with custom content — such as blogs, videos, webinars, and so on — so in response, marketers meet the needs of B2B buyers by creating personalized experiences that enable buyers to self-direct their buying journey. Plus, businesses that rely on inbound methods save more than $14 for every newly acquired customer. Manufacturers today have shifted their trade show budgets to invest in inbound marketing because it is more cost-effective, gets more qualified leads, and simplifies the jobs of their sales, marketing, and product teams.
Read More: How To Increase Your Inbound Marketing ROI
Due to the in-person limitations of COVID-19, manufacturers are no longer able to avoid the reach and effectiveness of digital marketing. According to a recent Thomas Industrial Survey, companies are 21% less likely to invest in trade shows while the use of webinars & virtual events (20%), search & social media (14%), and website (12%) all increased in light of COVID-19.
See More Of The Report: Manufacturer Interest in Reshoring, Hiring, and Apprenticeships Increasing During COVID-19 Pandemic [Report]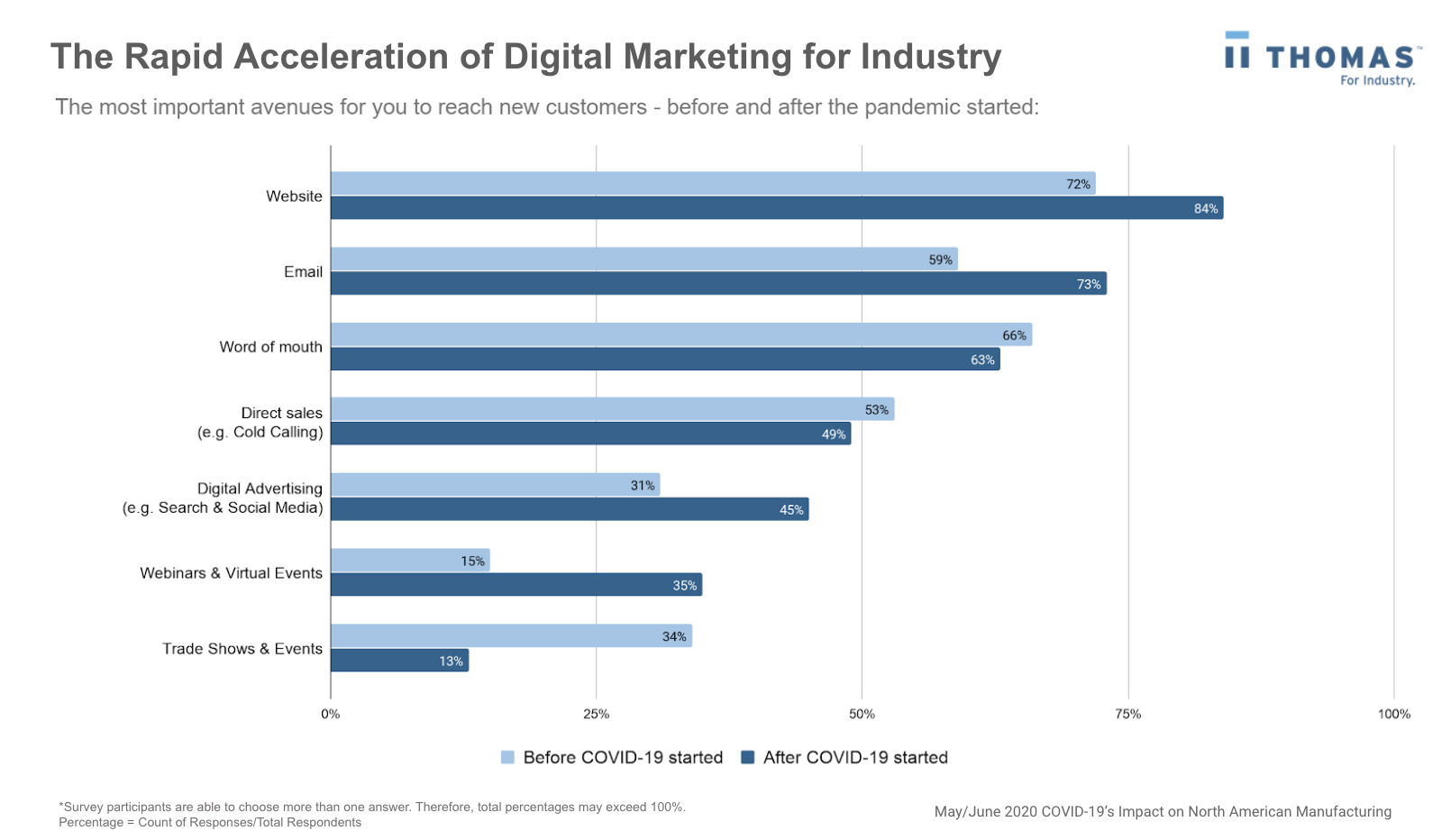 Inbound Marketing Case Study
Corrugated Metals is a roll forming manufacturer serving the construction, transportation, equipment, and defense industries. But their growth today in those industries can be largely attributed to their investment in inbound marketing tactics, including a redesigned website. Designed for better user experience, SEO, and overall performance, their new website climbed online search results and continues to:
Increase quality leads for the sales team
Increase sales revenue
Target opportunities from a specific industry for long term sales potential
See the before and after designs of Corrugated Metals' website below and learn how they increased their high-quality leads by 285% here.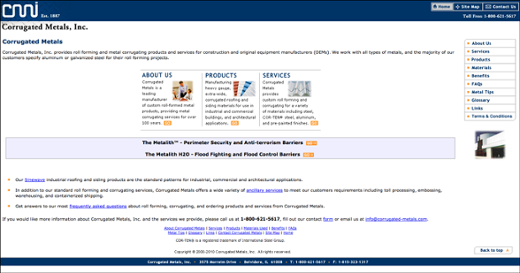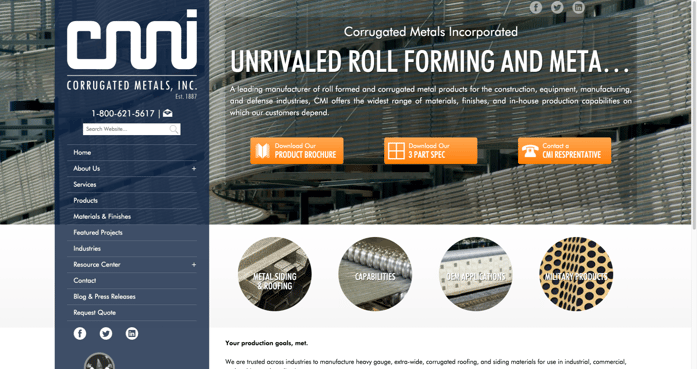 Thomas worked with Corrugated Metals to transform their complex content into compelling assets that converted website traffic to leads. Their strategists continue to execute online strategies that ensure Corrugated Metals stay top of mind throughout buyers' purchasing process. In fact, their online efforts helped them win a contract from the U.S. Air Force — who found their company profile listing on the Thomas Network, where more than a million buyers source for industrial products and services.
"We set a record for quotes in Q1, increasing them by 197% over the previous year," said Ken Carlton, VP of Corrugated Metals. "The average value of quotes has grown. We have received orders on the same day. The sales team can't believe how many good opportunities they have now. Participating in the Thomas program has changed the way I market my business."
Interested in putting some inbound tactics in action to win business from big buyers? Read our follow-up guide, "How Inbound Marketing Provides Growth For Manufacturers & Industrials," or request our free digital health check to see exactly what you need to stay ahead of competitors in the digital world.
You Might Also Be Interested In:
Did you find this useful?