How A Manufacturer's Logo Design Engages Buyers
Think of some household items you often use — Bounty paper towels, Dawn dish soap, Jif's peanut butter? The products are almost synonymous with the company name.
Building this recognition takes time and effort with brand marketing, but goes a long way in establishing trust with prospects and customers. In some cases, the first impression a prospect sees of your brand will be through your logo — so first impressions matter. Here are a few reasons why a manufacturer's logo's visual elements make a difference for growth.

Why Your Manufacturing Logo Matters
An updated logo reflects the value of your work and the industry you're in. Many manufacturers and industrial companies were established decades ago, but they tend to diversify their offerings as companies grow. Is your logo still reflective of the industrial services or products you provide?
Today's buyers are largely made up of millennial buyers — 73% of millennials are involved in B2B purchasing decisions. And the majority of people can distinguish between a professional logo and a lackluster one.
Effective brand marketing gives you name recognition and capabilities recognition. Buyers are more likely to do business with a company that takes its brand seriously. The color theory in marketing suggested that marketers can influence audiences based on colors because when a prospect's eyes meet a particular color, they immediately judge what they see. Manufacturing logos with a particular color scheme can prompt people to take action. Moreover, an appealing logo attracts clients and potential business partners.
Where Manufacturers Can Add Their Logo
Logos have to be placed in numerous places in a variety of formats. In the past, logos were traditionally used on printed materials or signage. Now they have to fit across digital platforms and social networks, in different size formats.
Here are a few places manufacturers' logos can get more brand recognition:
Employee swag: The most common ways to print a logo are on office stationery, business cards, and company signage. But your employees are marketing tools too. Get more mileage on your logo with branded sweatshirts or tees your employees will feel proud to wear outside of the shop floor.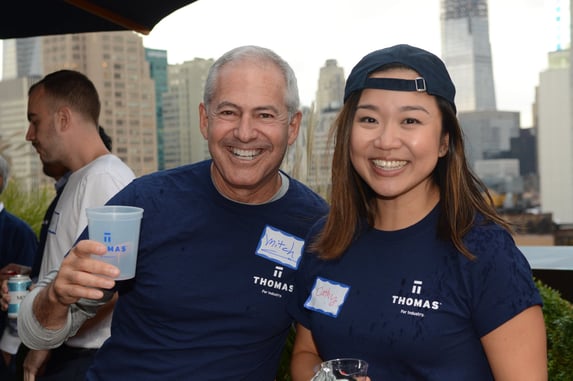 Website: Your website is the foundation of all your online efforts to attract prospects and convert them into customers. Buyers today are browsing on tablets and mobile devices. In a recent Thomas industrial buying habits survey, buyers cited a supplier's website as the most important factor they pay attention to. Make sure your logo is responsive on all your website pages.

Read More: The Ultimate List Of B2B Marketing Stats For Manufacturers & Industrials
Thomas Network Company Profile: The Thomas Network is where more than a million B2B buyers source industrial products and services. Your manufacturing logo on your company profile should reflect the strength and credibility of your brand to encourage buyers to submit an RFI. If it isn't a high-resolution image, looks blurred, pixelated, or unprofessional, buyers are less likely to contact you. Complete your company profile for free here.
Marketing assets: When your website is optimized for SEO, Google indexes the images on your site too. So in addition to your content showing up on search engine results, your images will too. In addition to including your logo on all your marketing materials, (your product catalog, emails, videos, etc.) add your logo to relevant images on your website to increase the visibility of your brand and increase your SEO rank.
Online advertisements: A good logo reflects who you are but stands apart from everyone else. When you use your logo on display ads or social media featured images, make sure it's still crisp and clear when it's decreased in size.
Toagosei America Inc., a manufacturer of Aron Alpha industrial adhesives, primers, accelerators, and applicator solutions used display advertising in TIU, industry's leading email newsletter, to increase their brand. They drove more than 73K impressions from industrial decision-makers in one newsletter send.
Improve Your Manufacturing Brand
Your online presence should be as professional as you do business in-person. Industrial marketing experts can work with you to improve your manufacturing brand and ensure all your customer-facing assets are up to date. From your emails to your website to the way you follow up with an RFQ, a professional logo is a small but important component to brand marketing and gives your company an identity your buyers will remember.
Contact us to learn how Thomas' online solutions and industrial branding expertise increase your reach to engineers, procurement managers, and MROs and allow your team to generate new leads, sell new business, and bring on new customers.
A key thing about Thomas is the ability to generate a lot of leads across various industries. We wanted to help educate our customers. Through eBooks, blogs, a revamped website — they actually drive our own knowledge out and customers appreciate the insight.
Additional Resources For Manufacturers To Improve Their Brand:
Did you find this useful?