HVAC Marketing Basics: How To Advertise Your HVAC Contracting / Manufacturing Business
The U.S. HVAC services market is predicted to increase value from $25.6 billion in 2019 to $35.8 billion in 2030. A successful growth strategy centered around your customers' behavior can be invaluable for HVAC contractors and manufacturers. Here are some basic marketing ideas for HVAC companies to grow their business and tap into more market share.

Understand The New Audience Of HVAC Customers You're Reaching
Market trends note that "enterprises in the manufacturing industry have been looking to invest in MROs to help them achieve consistency in manufacturing and reduce the length of downtime in the manufacturing process." Driven by consumers learning that frequent maintenance and repair activities can lead to savings in energy consumption and exhibit improved functional efficiency, the MRO market presents a critical area of market growth for the HVAC industry. And with more than 74% of purchasing professionals being millennials, now is the perfect time to adopt an HVAC marketing strategy.
Today's new age of B2B buyers and MROs are tech-savvy millennials and they're researching your services online before contacting you. Studies show that:
74% choose the vendor that was first to add value and insight to their problems
67% rely more on content and research now than they did a year ago
80% expect the same buying experience as B2C customers
Additional studies have shown that more than 64% of HVAC searches for HVAC services happen on a mobile device — is your website set to meet the needs of your buyers?
Planning A Basic Marketing Plan For HVAC Contractors And Manufacturers
To see if you have a strong platform to reach more buyers and set a marketing plan in motion, begin with a competitive analysis of your website — after all, your website is a big foundation of your growth efforts. Take a look at key website components like:
Keyword performance
Optimized images
Page titles and descriptions
Contact buttons
Mobile page speed
An increase in business opportunities in the industry also means an increase in competition. A strong online presence (and regularly evaluating it) can keep you ahead of competitors and increase your market share.
It might be necessary to turn to industry experts to fully assess your website's content, SEO traffic, mobile-friendliness, etc., and understand what all those details mean.
Top Read: Training A Marketing Employee vs Hiring A Freelancer vs Agency
Thomas' Free Digital Health Check can review your HVAC contracting or manufacturing website and show a detailed comparison of your website against competitors.
Optimizing Your Website To Be Mobile-Responsive
Today, 47% of consumers expect a web page to load in 2 seconds or less and 33% of people abandon a website that takes more than 4 seconds to load. If the mobile version of your website is not similar to the functionality and control of the desktop version of your website, visitors are likely to get frustrated at the poor user experience and turn to a competitor.
Buyers like to research tips in your industry and educate themselves on their own before contacting you. Present yourself as a trusted leader by publishing free resources, guides, and case studies that address your buyers' common challenges.
Organize your content in an Industries Served section like ProTherm's website to target buyers in specific industries. The right content combined with SEO strategies will help drive high-quality traffic from search engines to your website, adding location-based keywords to relevant pages like "HVAC services in NY" or "HVAC repair New England" will help attract buyers searching for you in your area.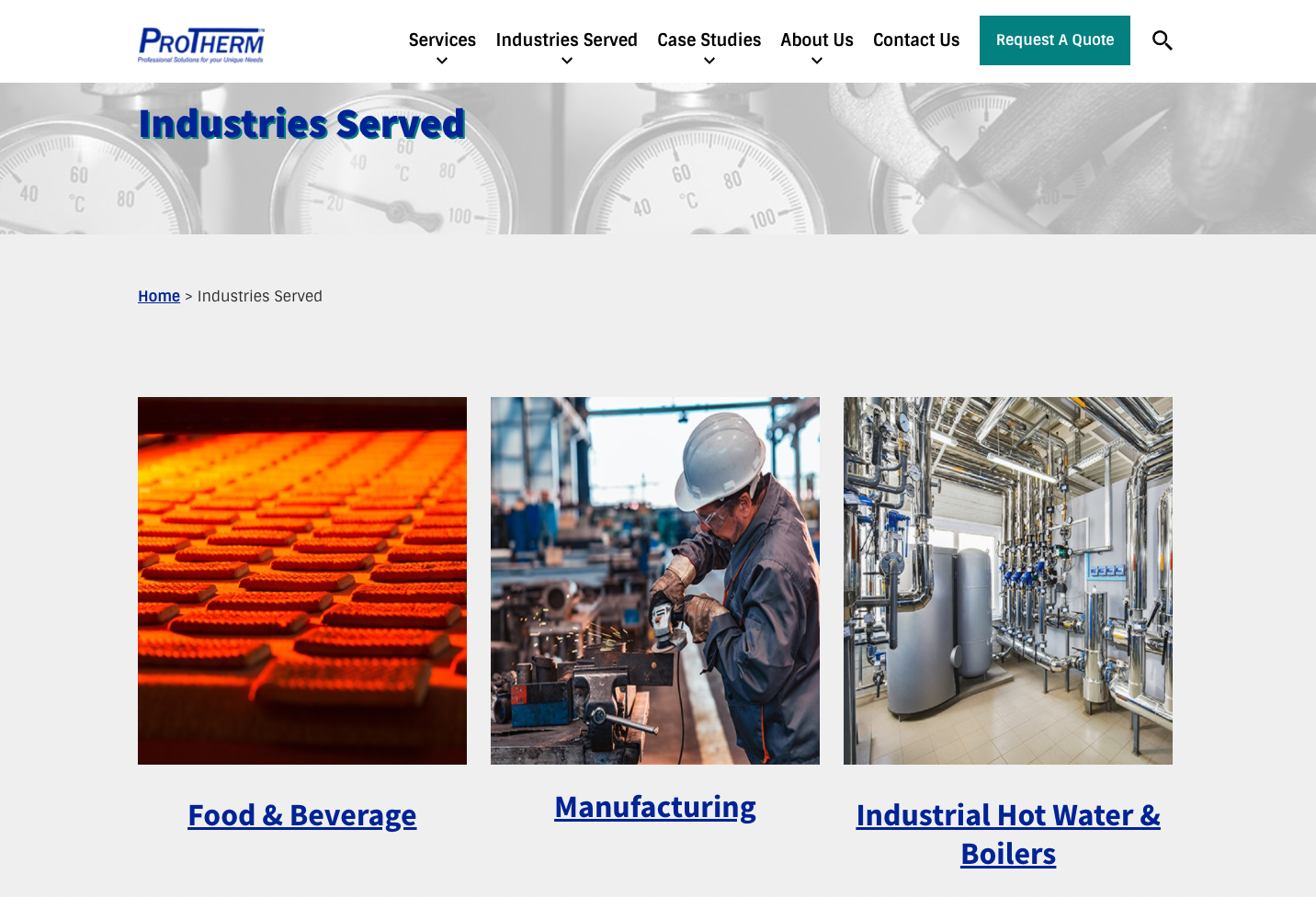 Learn More: How To Create Quality Content That Engages Buyers
In addition to updating your website's mobile functionality and content pages, prioritize key components to encourage website conversions. This means including easy solutions on your website for prospects and customers to contact you or submit their information. For example, on your Contact Us page, provide more than one option for website visitors to contact you, like a click-to-call button, RFQ forms, email address, and 24/7 service CTAs. Make sure these are visible at all times.
Ideas To Promote Your HVAC Contractor & Manufacturing Business
To take your website efforts even further, a digital advertising strategy can promote your HVAC business to the exact audience you want to do business with. In some cases, you can advertise your HVAC business for free with minimal effort. Enter your company information in online directories like:
Take the time to make sure your company name, address, and phone number are consistent on all platforms. This ensures you're bringing in traffic to your website, prospects and customers can find you, and your brand stays professional.
"Thomasnet.com has brought California Heating Equipment (CHE) over $5 million in business and opportunities with major aerospace manufacturing companies. We are currently working with two major aerospace companies on over 3.6 million dollars in manufacturing which is a direct result of our Thomasnet.com program. Currently we have attributed the 200% increase in CHE sales as predominantly attributed to our internet marketing program we developed with Thomasnet.com."
Learn More: How To Market Online To Buyers In The Defense Industry
Many manufacturers are including paid advertising strategies like display ads and promoted content to also amplify their reach, increase the awareness of their HVAC services, and drive traffic to their website. Managing paid advertising campaigns on search platforms can be costly if you're new at it. There are many filters and factors to consider like the timing of your ads and the job titles you're trying to reach.
Thomas makes it easy to advertise to the buyers you want to do business with. Our platform is home to more than 1.2 million professionals sourcing industrial products and services. HVAC contractors and manufacturers have the opportunity to announce a new HVAC service in our email newsletter (gets read by more than 300,000 B2B buyers and MROs!) or showcase how proud your family-owned HVAC company is with video advertising.
---
Thomas Tip: You can have a video produced for free (like the one below) with the purchase of an advertising program.
---
In the email newsletter ad example below, Uber Freight chooses the audience (e.g. agricultural, construction, etc.) they would like to promote their discounted service to. The advertisement drives the qualified visitors to their website to submit the form and convert to a lead!
Support Your Growth With Digital Marketing Basics
Today's business and consumer landscape is changing to be more digital every day. There are many components to a full digital marketing strategy for HVAC contractors and manufacturers but you can start with some website updates. Studies show that 30% of consumers won't even consider a business if they don't have a website so your website should serve as the foundation of all your growth efforts. Our free eBook 10 Step Checklist For Your Website Redesign outlines the steps to make sure your website supports and improves your entire marketing plan. Download the eBook here — it also provides 9 best manufacturing website examples to inspire your new look and feel.
If you have questions along the way, contact us to learn how Thomas' online solutions increase your reach to audiences searching for your HVAC services and allow your team to generate new leads, sell new business, and bring on new customers.
What's Next:
Did you find this useful?