Brand Marketing Inspiration For Manufacturers (With Examples)
A brand can be defined as the impression, both conscious and subconscious, that people have of your company. A good brand helps you stand out from your competition, and many great brands connect with customers and prospects at an emotional level. For example, some manufacturers make their community — or an issue in their industry — part of their brand's story. When you promote your brand effectively, you can enjoy many benefits:
You help spread awareness of an important cause
You make people feel good about doing business with and associating with you – including employees, customers, vendors, and investors
You generate positive "buzz," attracting valuable press attention and industry awareness
Perhaps there's a local environmental issue you can champion and support. Maybe there's a local annual fundraising event for a cause you can "adopt" as the primary sponsor. There may be local schools with engineering or robotics clubs to support or even create contests and scholarships.
Brand awareness is all about what the mind state your ideal customers experience when they see or hear your company's name or logo.
Ultimately, whatever strategy you use for your brand marketing, make sure it aligns with your company's true beliefs, spirit, and image. Here are some examples from manufacturers to inspire your next (or first!) brand marketing initiative.
Examples To Increase The Brand Awareness Of Your Manufacturing Company
B2B buyers today purchase industrial products and services differently than they did a few years ago. That's because more than 70% of today's buyers are tech-savvy millennials. Your website is one of the first things buyers, procurement managers, and MROs use to research your business and see if you meet the qualifications of their projects. Your website should be the foundation of all your growth efforts and be used as a vehicle to drive brand awareness to those that are in-market for what you offer.
Use Blogs To Help Prospects Understand Your Business
Consistently building your brand gets people to be more familiar with who you are and helps with growing a loyal customer base and attracting employee talent.
Consider writing regular blogs to drive traffic to your website and help visitors understand what you do. Studies show that marketers who prioritize blogging are 13 times more likely to achieve a positive ROI on their efforts.
Build a blogging strategy centered around keywords relevant to your audience. There are many different types of content you can post on your blog, like:
How To
Case Studies
Beginner 101
Infographics
Company News
A deep understanding of your audience's challenges and concerns will help you brainstorm topics and angles to cover. Kickstart research about your audience with these resources:
Today, many buyers prefer to do business with companies that are transparent on their carbon footprint and environmental issues. In the example below, Engineering Specialties Inc. published a blog to showcase their facility's sustainability efforts and their investment in the area's largest photovoltaic solar panel arrays.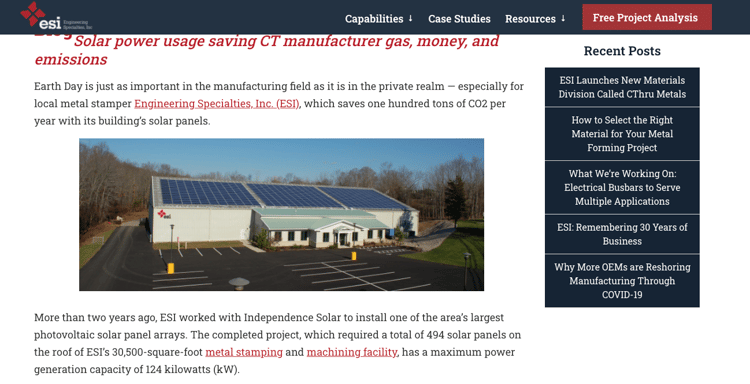 Increase Your Reach With Video Advertising
Some manufacturing services and products can be complex. Videos educate buyers about your industry in a more creative outlet and give them a better look into the quality of your work. Videos are among the most popular marketing components to engage buyers — according to HubSpot's 2020 State of Marketing report, video beat out heavyweight contenders like email, blogging, and infographics as the most used type of marketing content.
Some video ideas manufacturers are using to increase their brand:
Product demos or project spotlights
Company overview and history
Behind-the-scenes coverage of what it's like to work at your business
Interviews with your staff or industry experts
The story you decide to tell should be based on your marketing goals. If you need help with the vision and creativity, check out the below resources for video marketing inspiration:
Creating a new video can seem daunting — that's why our team produces manufacturing videos for free with the purchase of an advertising program. Supplementing your growth tactics with different strategies like videos and content marketing will amplify your reach to more buyers and encourage them to do business with you. After you've created your video, host them on all your marketing channels — your website, Thomasnet.com Company Profile, social media channels, etc. That's because studies show that marketers who incorporate video into their content strategies have seen 49% faster revenue growth than those who don't.
Learn More: 4 Places To Advertise Your Manufacturing Business
Promote Your Manufacturing Brand Where Your Buyers Are
On that note, your brand must get seen wherever your buyers are. For manufacturers, their buying audience is on Thomasnet.com where more than 1.3 million registered B2B buyers, engineers, and procurement professionals are sourcing for industrial products and services every day.
"With Thomas running our lead generation efforts and marketing, our sales increased by 60% in just one year," said CJ Winter. "Thomas maximized our company exposure, drove a record number of qualified leads, and helped us turn these opportunities directly into sales dollars."
The decision-makers who source Thomasnet.com for new suppliers, vendors, and partners are made up of 93% Fortune 1000 companies, so you don't have to worry about bot traffic and ad fraud sinking your advertising budget.
Boeing, the world's largest aerospace company, is a customer of Tiodize, a custom manufacturer of dry film lubricants, degreasers, and grease. They assured Tiodize that Thomasnet.com is where their engineers went first to find information on suppliers.
"Because we manufacture and sell specialty coatings and composites, we are always looking for ways to be in front of decision-makers when they need our products," said Tiodize. Below is their advertising presence on Thomasnet.com that reaches the buyers they want to do business with.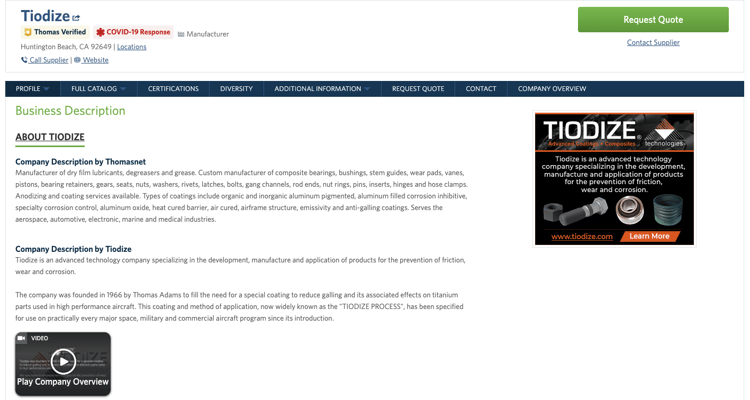 "Thomasnet.com is an efficient and effective way for us to do that. After listing on Thomasnet.com, our sales have gone up exponentially compared to our increases in our ad budget. We have added customers every year and increased our sales per customer at the same time."
Read more success stories here:
In addition to Thomasnet.com, listing your business information on other online directories like Yelp, Google My Business, and Facebook are great, free ways to increase your visibility. Buyers in your area prefer to do business with those in your region to decrease supply chain complexities, so make sure your name, facility locations, and phone number are consistent across the online directories.
Learn More: How To Use Digital Marketing To Get Business From Local Buyers
Use Emails To Strengthen Your Brand
Your buyers are also regularly reading industry news. Promote your content to your existing customers using email marketing in your regular emails or email newsletters published by industry experts like Thomas Industry Update. Thomas Industry Update (TIU) is a top daily email newsletter that lets professionals stay connected with information impacting the manufacturing and industrial landscape. Manufacturers like Staubli Electrical Connectors and GCB advertise in TIU to increase the awareness of their products in the example below.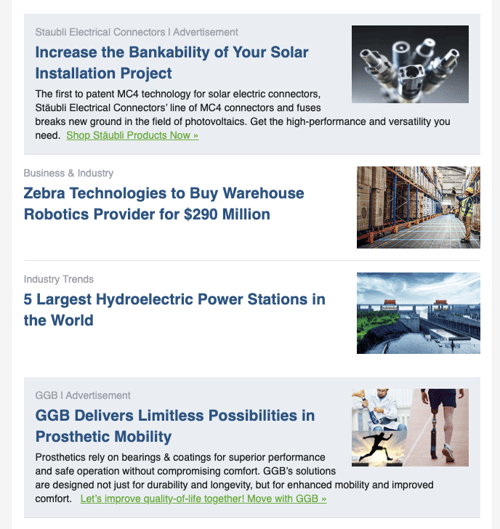 Regular email communication will keep your business top of mind when they're ready to ready for another project with you. Encourage your customers to share your content with their colleagues or network to increase your reach even further. And send out customer satisfaction surveys so you know what you can improve on. Your current customers are vital to helping you get new ones.
Read More: 9 Email Marketing Types You Should Be Sending
There are a lot of components to brand marketing and it can be overwhelming figuring out what to focus on and to help your business grow. Thomas has been connecting buyers and suppliers for more than 122 years and can help you get in front of the right customers. Need help getting started? Contact us for a free digital health check. We'll let you know exactly what you need need to grow your brand presence and we'll review your company against your competitor, too.
Did you find this useful?