9 Tips For Video Marketing Campaign Success: For Manufacturers
Video marketing is on the rise, and for good reason; videos have been shown to capture attention more effectively than plain text or static pictures, and videos are shared more than any other type of content on social media. Today, 61% of content marketers are putting videos into play to keep up with the competition and establish their brands as cutting-edge thought leaders. If you haven't yet made use of video in your content marketing campaigns, it's time to get going. Or, if you're already utilizing video, it may be time to kick it up a notch and different video types to increase sales.
With solid production value and engaging content, your video will position you as a knowledgeable, current, and trustworthy brand. Below, we've outlined tips industrials should keep in mind when using videos in their marketing campaigns.
How Manufacturers Use Videos Marketing Campaigns To Engage B2B Buyers
1. Keep The Videos Short And Sweet
Videos today can be as long as a full-length 30-minute episode or a few minutes, but the optimal length to engage most B2B buyers between around 1-2 minutes.
Get to the heart of your content within the first few seconds. Then keep moving through the message to draw in and captivate your audience. You'll lose a good portion of viewers within 10 seconds no matter what you do, but you can hold onto the rest with a strong hook by offering an engaging teaser or compelling question that can work well here. Generally, you have about 30 seconds to get viewers to engage.
Also, make sure your video jives with all social media platforms you intend to use. For instance, Twitter allows for videos up to 2 minutes and 20 seconds long, while Instagram allows for a full minute. Make copies of your original, long video into shorter lengths so they are optimized for social media (remember, social media marketing increases your reach!)
2. Be A Storyteller, Not A Salesperson
What types of commercials stick with people? The ones that tell a story — whether they're humorous or emotional. It's within the framework of that story that a message is delivered and a product sold. It's no secret that people respond emotionally to movies with victorious heroes or lovable characters overcoming challenges. Neurochemicals get involved when watching these kinds of stories, making viewers feel more charitable, emotional, and generous. The same emotions apply to B2B marketing and videos.
Package your message in some kind of subtle story, whether you relay how your machine helps small companies save thousands or how your safety protocol saves lives. This will be much more effective than an old-school sales pitch. (But don't overdo it. Users can tell when they're being manipulated.)
Make a lasting impression that sets you apart from competitors. If your video is engaging and directly useful, people may watch it repeatedly and may even share it with their industry circle.
Some ways manufacturers have been using videos are:
1. To showcase a complex product
2. To tour their shop floor and factory
3. To highlight their company history
Watch Now: 17 Videos Featuring Industrial Companies For Your Video Marketing Inspo
3. Use Keywords In Your Title
Choosing the right title for your video is more important than you might think. Many companies make the mistake of keyword-stuffing the title of their videos, hoping against hope that the video will come up in as many search results as possible. This, however, will not drive qualified leads. The best and most effective title is the most accurate one.
After you upload your video, be sure to include an optimized and descriptive title. You could start by just removing the file extension from your already file name or you could mix it up. Just be sure to accurately describe the video and its contents.

Title with optimization: How a heat exchanger is made
Title without optimization: Heat exchanger video_version 2.mp4
How-A-Heat-Exchanger-Is-Made is also not an optimized title. It can be easy to leave the title as is when uploading the video to YouTube, but don't let it be an oversight. Ensure it's the same clear title across all your channels wherever you upload the video (keep reading for more info about other channels you should be sharing your videos on). Using clear keywords in your video titles is also a part of search engine optimization (SEO) and will help buyers find your video in search results more easily.
Learn More: SEO Basic Tips To Drive More Visitors To Your Website
4. Consider Using On-Screen Text
Lots of videos are watched without sound — as many as 85% on Facebook, in fact. People who are in the middle of their commute, working while surrounded by others, or simply winding down at night often just watch videos for the images.
For videos uploaded directly to Facebook, we strongly suggest "baking in" the subtitles in the video, like in this example from Hudson Technologies. Note the subtitles are nice and clear on the bottom of the video with black text over a white background.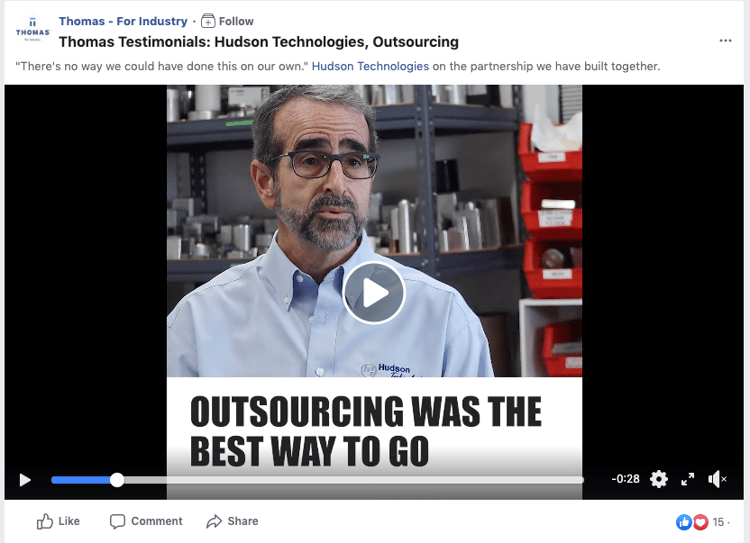 As compelling as your story may be, without some text on the screen, you may risk the majority of your audience missing the point of your video. Just do so creatively, and keep in mind that most people hear your message with their eyes only. This is a bit more of an advanced move and is best if your manufacturing company partners with a video production company or marketing pro in-house that can take the time to edit videos and text.
---
Curious about the best video marketing tools for beginners? Download Video Marketing For Industrial Companies to learn which tools work best with your budget.
---
5. Be Detailed In Your Video Description
The next key to video tweaking is creating the right description. Doing this step well can make your video an engine to drive qualified and interested viewers to your website — yes, that means lead generation! In addition to giving a brief overview of the video, your video's description should include:
Your website's URL

A description of your video's content
A description of your product or service

Your video's keywords throughout
YouTube is the second largest search engine today, so yes, like we've mentioned before, using keywords in your video description contributes to SEO and can bring qualified traffic to your website.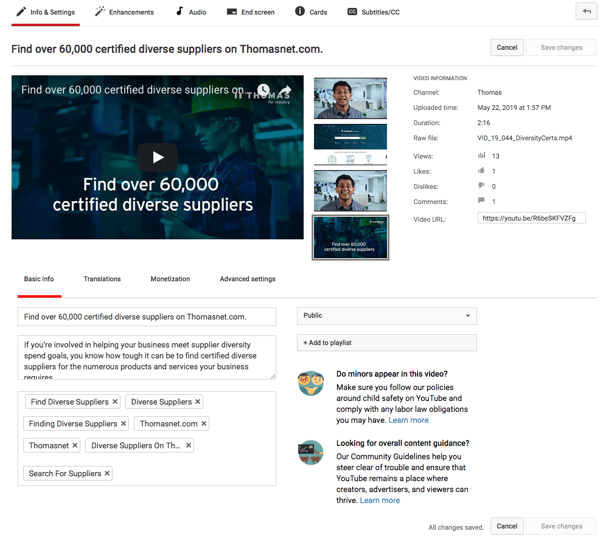 Unsure if you're promoting your company the best way possible? Thomas offers a free digital health check for manufacturers to reveal exactly what you need to stay ahead of competitors today.
"As a marketing department of one, it has been really helpful to have Thomas around to help with our marketing strategy as opposed to making it up as we go," said Jeff Collins, Partner at Renown Electric. Renown Electric is now seeing more than 70% growth in organic website traffic year-over-year and generating leads across various industries.
6. Use Category Tags
The tags you choose for your video will directly affect where you show up in a search. The same care used in keyword selection should be used in tag selection. Your first tag should be as precise as possible and secondary tags should get gradually broader. For instance, start with your business name, expand to what you do, then describe your industry, the parent industry, and finally to the broadest classification (such as "industrial").
Using long-tail keywords and phrases is a great way to increase your chances of appearing in YouTube search results. Think of all the different words that a user may type into the search bar to find your video. For example, in our video titled, "Find Over 60,000 Certified Diverse Suppliers On Thomasnet.com" we used the following tags that may help this video appear in search results.
Find Diverse Suppliers

Diverse Suppliers

Diverse Suppliers On Thomasnet.com
7. Be Strategic About Adding Cards
YouTube offers the valuable feature of adding cards to your videos. YouTube's Cards Editor lets you place videos/playlists, channels, polls and links over your video. Cards are a useful tool of video production that allows you to hold a dialog with your viewers and achieve a higher level of engagement. However, they must be used sparingly, when it flows with the video lest they distract from your message and turn viewers away.
Cards should not be overly invasive and definitely should not dominate the video. They should be contextually relevant giving answers and value to the viewer. They should also not be overly promotional, as this is seen as spam.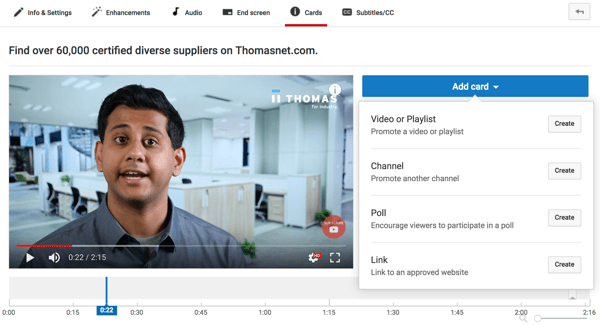 8. End Your Videos With A Call-To-Action
As much as we stress that you shouldn't be too "salesy" in your video, the whole thing is kind of pointless if you don't ask viewers to do something after watching. You still have to let your audience know that you're open for business and that your services or products can help them. Include a related call-to-action (CTA) that can benefit both the viewer and your brand. Otherwise, you have a shiny new video that doesn't achieve its potential.
So, in the last few seconds of your video (or even somewhere in the middle if you can add it smoothly), urge your users to take the next step — whether it's filling out a form to download valuable content or reaching out to your team for a consultation — and give them all the information necessary to do so. You can add CTAs with basic text on screen, annotations, or combine all of the above with text and an image. Just make sure the design you choose is aesthetically pleasing and is appropriate to your brand colors.
Check out these resources to guide your CTAs:
9. Share Your Videos On All Your Marketing Channels
Engage in a promotions strategy to expand your reach and look beyond your usual channels to achieve lead generation. Here are the marketing channels we recommend for videos:
Social media: Sharing your videos on your social media networks will increase your digital presence and your likelihood of reaching more relevant buyers. Download The Complete Guide To Social Media Marketing for a refresher on engaging on your social media networks.
Different video hosting websites: There are other websites you can use to host and publish your videos, separately from YouTube. Although YouTube is the largest and most popular, consider Vimeo or LinkedIn.
Email marketing: Send an email to your customers and prospects about your new video. If you mention "video" in your e-mail subject line, and you're statistically likely to get an increase in open rate.
Your own website: Embed your videos on your blog, product/service pages, landing pages — it's where you ultimately want potential buyers to go after viewing your video content. Make sure you have forms, a current phone number, and an active email address you're monitoring for visitors to contact you.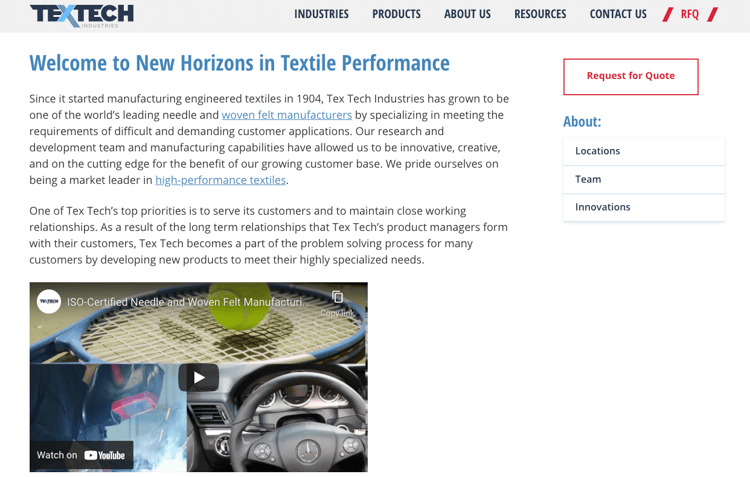 In the example above, Tex Tech uses a video on its About Us page to describe its ISO-certified solutions. Videos on website pages help visitors stay on your website longer and increase your chance of converting them to a lead.
Learn More: About Us Page Must-Haves For Website Engagement
"Diversified content on our site has really helped us stand out as a leader in the industry," said Eoin Lynch, Executive Director of Sales and Marketing at Tex Tech Industries. "Some aerospace technology can be complex, but our graphics, datasheets, and videos from Thomas Marketing Services break it down for buyers to understand what they need and how we help them."
"We are extremely pleased with the activity generated by our Thomasnet.com program," said Norman Rodriques, President, Springfield Spring Corporation. "New RFQs come in so often we have trouble keeping up. Even more astonishing is the quality of the leads and the number of new customers we have converted."
Learn More About Creating A Video Campaign
CJ Winter uses video marketing in their advertising strategy and supplemented their growth efforts with an updated website. In just one year, they experienced a 60% increase in sales.
"Thomas maximized our company exposure, drove a record number of qualified leads, and helped us turn these opportunities directly into sales dollars," said Bob Ryan Group President, CJ Winter.
Keeping these tips in mind will help ensure you create a highly effective, engaging video for your brand and have the foundation for a good video promotion strategy just as these successful manufacturers are experiencing. But remember — real marketing is not a set-it-and-forget strategy. You should regularly optimize your videos, landing pages, forms, and other marketing components based on your engagement metrics.
Not enough time to learn video editing or unsure which production crew to hire? Reach out to our experts today and learn how we can produce a video for free with an advertising program. No need to pay us for travel fees! Let us know what your goals are we'll handle the creativity and promotion strategy behind it!
"I can't believe how awesome the video turned out," said HPL Stampings. "Even all the captions describe us exactly. It's almost as if people from Thomas have worked here before."

Did you find this useful?