Is Your Website "Not Secure"?
We've written before about the importance of ensuring your manufacturing website is encrypted, and on July 1, it will become even more critical to migrate from HTTP to HTTPS.
Starting next month, Google will begin marking all sites that have not migrated to HTTPS as "not secure" in its Chrome browser.
What Is HTTPS Encryption?
HTTPS encryption safeguards communication between a web browser and a website, preventing other people from accessing the data that is being transferred back and forth. Without encryption, a third party — with access to a router, WiFi network, or ISP — can put intercept the information being sent and introduce viruses or malware.
If Your Site Isn't Secure, You're Sending The Wrong Message
This change from Google is just the latest in a long line of measures across all web browsers — Internet Explorer, Chrome, Safari, Firefox, etc. — that highlight the risks of non-secure sites. Browsers are beginning to display highly visible — and highly concerning — warnings to visitors of HTTP sites, like these: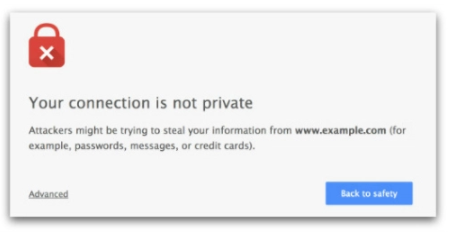 While it's clear that web browsers are putting an emphasis on security, there's another group emphasizing it as well — your potential customers. In the wake of highly publicized cyberattacks, people are paying attention to their safety and security online like never before. This trend is especially evident in the B2B space, where professionals not only need to worry about protecting their personal data, but safeguarding business and financial information as well.
Buyers, procurement professionals, engineers, and other purchase decision makers expect a seamless experience when sourcing suppliers and products online. If your site still is not secure, then you won't be able to meet these expectations.
If you have questions about HTTPS encryption, or need to upgrade your manufacturing website, the Thomas Marketing Services can help. We've helped more than 5,000 manufacturers and industrial companies build and optimize their websites, and every site we build includes free HTTPS encryption. Contact us today to learn more.
Did you find this useful?