6 Quick Fixes For Your Manufacturing Website
It's no secret that your website is the most important aspect of your digital marketing strategy. But are you taking the time to continually optimize its pages and features? Maybe you don't have the budget for a full redesign, or don't require such a drastic change right now, but even just a few simple tweaks can go a long way in boosting site traffic and engagement.
Below are six quick fixes to consider implementing for your industrial website.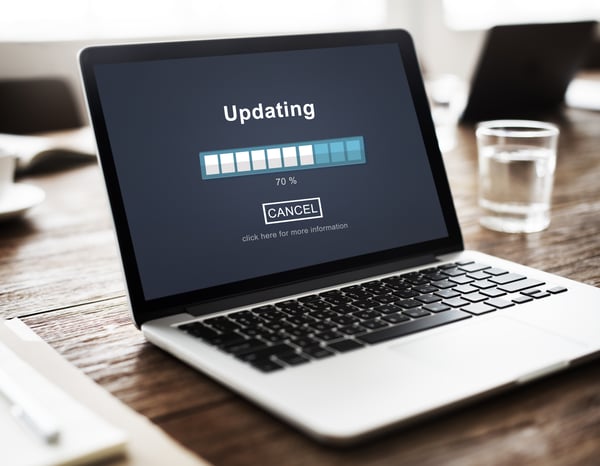 1. Add Google Analytics
If you're not keeping track of your search engine optimization (SEO) rankings and site activity, it's time to start. This free service allows you to measure the results of marketing campaigns in real time to see how site visitors interact with your content while also keeping track of your manufacturing website's SEO ranking, which will give insight into how often you're appearing in search results.

Google Analytics allows you to spot trends in user behavior, easily view your bounce rate, keep track of outbound clicks, and much more. Getting started is relatively straightforward, and should only take about 20 minutes.
2. Clean Up Your Navigation
A clunky navigation menu can make it hard for visitors to get where they need to go on your site, preventing them from accessing the information they need. A frustrating navigation experience will likely increase your bounce rate and hurt overall site engagement, putting people off with a bad first impression.

If your navigation bar does need a tune-up, it's actually a simple fix on most platforms. Be sure not to overwhelm your visitors with too many tabs; keeping it contained to four to five will allow for a clean, sleek look and allow visitors to get the information they need quickly and efficiently. To highlight your main services and content, put your most important tab first or make it stand out from the rest.
3. Add A "Contact Us" Page
While offering insightful, directly useful content is, of course, a great way to drive leads, the best prospects are the ones who want to get in touch immediately to discuss their options and receive more information on pricing, services, and products. But many industrial marketers make it difficult for these valuable leads to do so; without a dedicated "contact us" page, potential clients are forced to hunt around for a way to contact you. Not only does this make for a frustrating consumer experience, it may also prevent people from getting in touch at all.
Create a page that specifically outlines contact information and/or contact forms, and put a link for it in the main navigation menu. Plus, "contact us" pages can help boost your rankings for local SEO terms, so be sure to include your physical address and a map pinpointing your location.
4. Fix Up Your Photos
No matter what industry you're in, the photos on your website must be crisp, professional, and relevant. Get rid of any blurry photos, outdated clip art, or images that don't speak to your brand, and replace them with modern photos that better represent your company and its offerings.
Also, make sure all of the images on your site are optimized for web pages; photos with large file sizes may be slow to load, frustrating visitors and increasing your bounce rate. Even if you're on the go, there are some handy mobile marketing apps you can use to make it happen.
5. Add CTAs To The Bottom Of Every Page And Blog Post.
If a visitor is taking the time to read through a whole web page or blog post, you want to make sure they'll stay rooted in your digital universe and remain connected to your company. To do so, include a call-to-action (CTA) at the end of every web page and blog post. CTAs should drive to other related content, such as an eBook, or link to your "contact us" page. This will help keep your brand top-of-mind while encouraging users to seek out other content that may be useful to them.
6. Make Your Site Secure.
If your site URL still starts with HTTP rather than HTTPS, it's time for a serious security upgrade. You may be scaring customers away before they even get a chance to explore your offerings.
To put it simply, HTTPS protocol encrypts data sent between a browser and a web server, preventing unauthorized third parties from accessing that data while it's in transit. This greatly reduces the risk of site visitors encountering cyberattacks and scams, such as "man-in-the-middle" attacks, in which scammers take information users have entered into forms on your site.
Consumers today are more cautious than ever about their digital security, so take the time to evaluate the message you're giving off and implement any needed fixes immediately.
Learn More
Implementing these basic fixes can help you get a lot more out of your industrial website, upping site visits and allowing for a better consumer experience for potential leads.
Want to learn more about industrial website best practices, or need some serious heavy lifting done for an outdated or unresponsive site? We're here to help; contact the industrial marketing experts at Thomas today to discuss your options. Need some inspiration on your next industrial website redesign? Download our eBook, "9 Of The Best Manufacturing Websites That Will Inspire Your Next Redesign."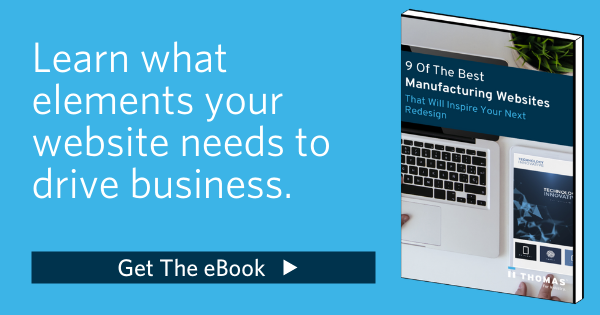 Did you find this useful?