How To Pump Up Your Business With Mobile Marketing
Think mobile marketing only works for B2C companies? Think again. B2B companies get a lot of mileage out of mobile marketing as all customers, not just those in the consumer space, are making their way towards mobile.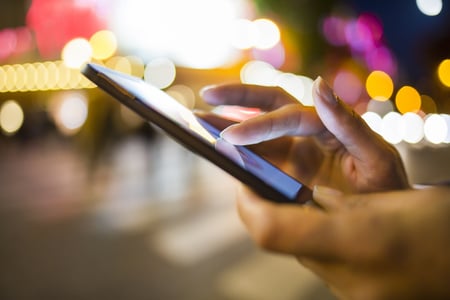 B2B marketing does differ from B2C, however. Though some areas will overlap such as an increased focus on providing a variety of media content (infographics, video, podcasts, etc.) and bolstering your ability to reach customers immediately by using mobile messaging, there are other areas that will differ.
The focus of a B2B app is finding out how to provide the customer what they need most easily, not necessarily showcasing your brand.
B2B businesses that master mobile marketing can reap the rewards with increased sales. Here are the top ways to enhance B2B engagement with mobile:
Make Sure Your Website Is Mobile-Friendly
Mobile optimization is essential to engaging with B2B clients. Did you know that 56 percent of buyers have researched B2B websites on their mobile devices? B2B startups and newer businesses have the extra onus of having to prove that they're up on new trends and technologies, so they simply need to have a mobile website that works perfectly.
Customers need to be able to find the information they're looking for quickly and easily on a fast-loading site. Content should be kept short for the mobile user so your busy clients aren't stuck scrolling through pages of content designed for your desktop website.
Make it easy for them to fill out forms on their mobile and enable auto-fill as much as possible to avoid them growing tired of pecking out information and giving up.
Integrate Different Media
The B2C trend towards increasing visual content applies for B2B as well. A text-heavy mobile website won't work for B2B customers. Thirty-seven percent of marketers confirm that visual marketing is the most important type of content for their business.
B2B clients want to be able to engage with your business via other media like infographics, video, and podcasts. Putting the effort into including great branded visual and audio content will pay off with increased customer engagement.
Use SMS To Contact Clients
B2B clients are out and about throughout the day, making their mobiles an important device for contacting them. SMS is particularly ideal for B2B because of its immediacy. When B2B customers are looking for a solution to a problem, they are looking to find it as soon as possible.
If they've made an inquiry to your business, you want to reply as quickly as possible. With text messaging, you can also ensure you receive the message instantly and go ahead of the competition who use more traditional and slower means of communication. Make sure your text message communication contributes to your overall customer experience, with clear instructions and information that's relevant to the client.
Have Mobile-Optimized Email
Though SMS is a great communication platform, there are times when email is a more practical way to communicate. For example, if sending a long contract or any kind of longer message, email would be the better way to go.
Make sure that your email is optimized to be opened on mobile. If it's not and the client has to wait until they have access to their desktop to read your email, you might count on that message being forgotten or unread.
Emails that don't open well on mobile may also be mistaken for spam and might get deleted. Otherwise, a non mobile-optimized email will just look flat out unprofessional, so no doubt optimization for mobile is a must.
Consider Developing An App
Apps aren't just for retail. They can be a great boon to B2B businesses as well. In fact, 65 percent of B2B companies have mobile apps and believe it's beneficial to their marketing success. Keep in mind that your customers have different needs than B2C customers, so don't attempt to mimic your favorite retail app - the same strategies won't work.
Research the needs of your customer inside and out and create an app that directly addresses their needs. B2B customers are well-informed and are looking for specific solutions. The easier you can make that experience for them, the better. Making them jump through advertising hoops on the app is NOT the way to win the hearts of B2B customers.
Be wary of sending too many push notifications. Your clients are busy professionals so taking them away from their work for something frivolous will only irritate them. Mobile apps are also great for engaging customers during live events and conferences.
Allowing clients to contact your business through the app, communicate with other professionals and browse event schedules will boost their impression of your brand.
Mobile-Optimized Customer Service
If a B2B customer hits a snag and needs your help, they should be able to reach out to you on their mobiles. Add a live chat option on your mobile website to attend to a customer's needs in real time.
SMS can also be used to solve customer service issues through mobile. SMS is ideal for busy professionals since it allows them to send off their inquiry and go about their day without being tied to a conversation or waiting on hold on a voice call.
That being said having an easy to navigate mobile website is the first line of defense against customer service snags. Make sure to track your customer service inquiries. Zero in on the frequently asked questions in order to improve your site and purchasing process to avoid customers having to contact you to solve a simple problem.
Did you find this useful?