3 Ways To Grow Your Business Through Market Expansion
American manufacturing is on the upswing. Hiring activity is at historic highs; reshoring is bringing production back to the U.S., and buyers are spending more on new suppliers than they have in recent years.
The climate to grow your business hasn't been this favorable in a generation — and yet, you may still run into roadblocks.
Business owners continue to be cautious with investments and costs, with good reason. Even as manufacturing and the economy as a whole make gains, the memory of tougher times looms.
Fortunately, the digital marketing landscape today allows you to take substantial steps to grow your business — without a substantial investment. There are several ways to go about it, but one of the most reliable, tried-and true methods is market expansion.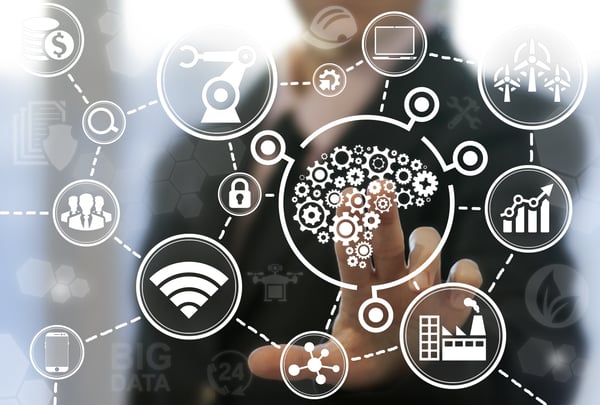 By developing and penetrating new markets, you instantly open up brand new revenue streams. These cumulative gains can impact your bottom line in a big way — especially when achieved through a relatively low investment. Inbound marketing makes it possible — read on to learn how.
1. New Verticals
Expansion into new industries and vertical market segments can help your existing product line do double duty (or more). No new equipment, no design lead times – just getting more out of what you're already doing. How can you get started?
Choose your target
Your best bet is likely (but not always necessarily) a related industry. Do a lot of aerospace work? Use your safety record and transportation expertise to explore the automotive sector. Medical suppliers might make the jump to laboratory customers. Think of the larger "buckets" that your existing industries fall into, and see which other ones are alongside it.
Focus on the similarities
What is your rationale for trying to break into this new industry? What will make your breakthrough customer say "yes" to someone who hasn't worked in their market segment before? Your track record does the work for you. Be sure to develop and promote quality content describing past projects, successes, and challenges – and how they relate to your new target markets.
Don't ignore the differences
Of course, since you're moving to a new market, there are bound to be disparities. Talk about them, too – and how you plan to address them.
2. New Geographies
The power of an online content marketing strategy can expand your geographic boundaries essentially without limits. Whether you're looking to go from a local to a regional supplier or from a national company to a worldwide player, a strong digital strategy will break down those walls. Here are some ideas on how:
Build content around your target geographies
Say you're an automotive supplier in the Midwest, and you'd like to expand to the Southwest and Mexico. You can blog about the boom in production in that area, and create content on your website detailing your capabilities to ship there. Associating your company with your target area (in a sensible way) will tell search engines that you're relevant there.
Get the word out
Direct marketing might seem like a good solution here, but purchasing a list of prospects for a new area is costly and inefficient. Consider a press release instead, announcing your new service to your target areas. In addition to providing more search engine "juice," channels like Thomas Insights get these stories in front of the people you want to reach.
3. Existing Markets
The ultimate in low-investment/high-reward: harness your existing products and your existing customers to drive more business. This works especially well if you have a customer who only contracts you for one or two part numbers, and you'd like to sell them more. Here's how you can open up the possibility of bigger orders – without hitting them over the head with a sales pitch.
Email nurturing
Since you already have these contacts, email marketing is a great option here. Again, avoid the hard pitch. Segment your list into those customers who are the best prospects, and target your messaging. You can tell them about the cost savings in consolidating suppliers, for instance, or make an announcement about additions or enhancements to your product line – and how it can benefit them. The key is providing relevant information at the right time. Email nurturing lets you do that.
Cement the relationship
Besides staying front-of-mind through useful email updates, make sure you're connected with your customers' social media platforms and blogs. Interact and comment when appropriate, and support them through your own posts. Adding an extra layer to the business relationship makes them more likely to turn to you for more of their needs.
Looking To Expand?
At Thomas, we've been helping manufacturers and industrial companies grow their businesses for over 120 years. Today, we can help you penetrate new markets through strategic SEO programs, content marketing geared towards your target prospects, or a customized program on Thomasnet.com, we can help you connect with the buyers you need to reach your goals. Contact our team to get started.
Did you find this useful?